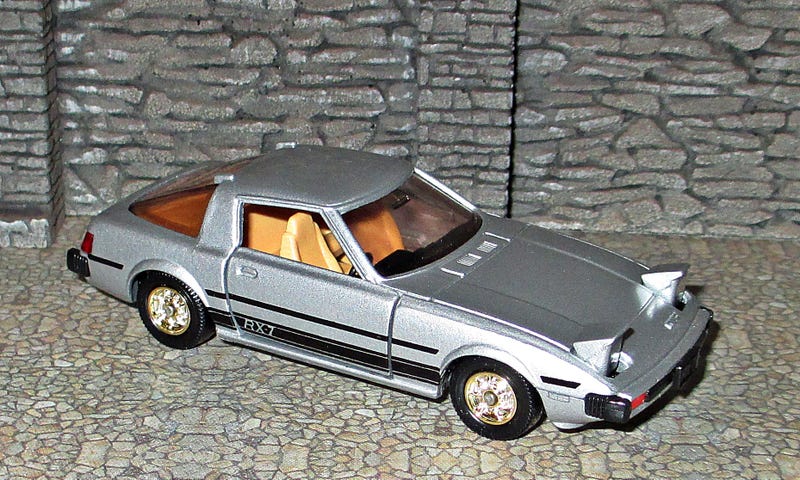 The Mazda RX-7 story is well know, so there is no reason to go into it here again. Instead, let's look at this Tomica Dandy model in 1/43, which is contemporary with the real car.
The model is made from some pretty thick metal, as you can see. So it sits heavy in the hand, and the doors open and shut with a satisfying "clunk" - they feature a spring coil to make sure they snap shut properly.
Most of the details are actually cast into the metal, like the script front and back and the filler cap. A lot of that would be tampod on today. The black stripes are of course tampos (not stickers), and they look very well applied. QC was doing their job properly on the day this on was made.
And of course this one has the party trick of operating pop-up headlights. No flimsy plastic mechanism here either, but a solid metal lever on the bottom. The base, too, is painted metal. And it is all held together by one small screw. (And, no, I'm not taking it apart, thanks)
The interior is a bit simple in comparison, but the nice and subtle suspension makes up for that when you roll it across the table. I've only said it 100 times before, but I will say it again: There's a tactile pleasure to these old models that today's models don't have. Sure, they are more accurate - but the feel, that's something else again.
One last thing about the design of the RX-7. When it first came out, I just thought it was an obvious copy of the Porsche 924. And no one will deny the obvious influence the 924 had. But - today, I would argue that the RX-7 design has aged better. It is cleaner and leaner than the 924's styling, and far less fussy in many aspects. The later FCs and FDs lost that clean look, sadly. Anyway, that's just my opinion.
Enjoy the rest of your weekend!