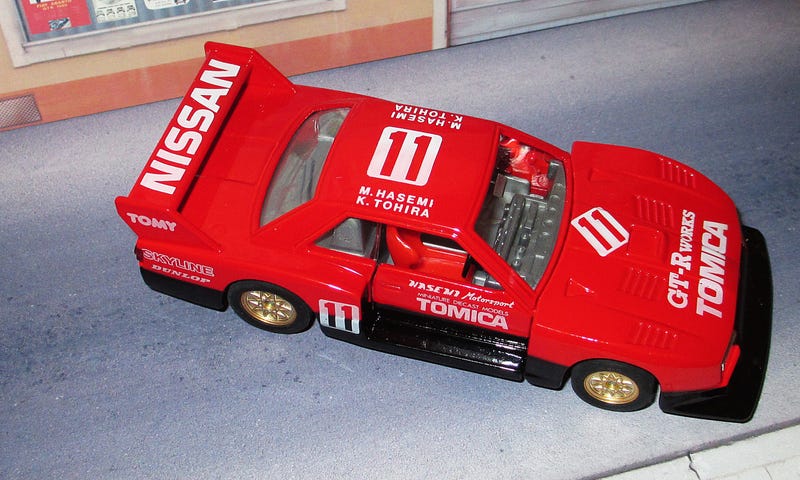 The Hasemi Motorpsort DR30 Skyline participated in the Japanese Super Silhouette series in the early eighties, a car built to FIA Group 5 regulations and sporting the usual wild look that all cars in this class boasted.

Group 5 regulations stipulated that cars had to be based on their road going counterparts and maintain the stock hood and roofline as well as the doors. Fender width, front and rear overhangs and aerodynamic parts were up to the teams which is why cars that participated in this cool class ended up looking like this! Cars like this iconic Skyline are responsible for kick-starting the whole bosozoku movement, with enthusiasts trying to replicate the dramatic lines of the racers on their street cars. It all went a little crazy after that and we all know what bosozoku cars look line nowadays!
The LZ20B up front develops around 570 HP with a nice helping of good-old, early-eighties, turbo lag!
The side exit exhaust continuously spits out massive flames on each downshift, something the car was very well known for back its time.
The GT-wings of today have nothing on this massive metal spoiler riveted to the body!
The model is a contemporary Tomica Dandy (#38). And if that background looks somewhat familiar, you are right. It is the one jobjoris often uses - and he was so generous as to include one just like his in his iHWEP parcel - just because he could. Awesome! Being an Abarth service station, it is a bit geographically wrong - but it fits in with the spirit of this old track warrior.
Seeing that Tomica sponsored the actual race car, it is no surprise that they chose to make both 1/64 and 1/43 scale models of it as well. I have both, but I missed out on the original release of the TLV. Still kicking myself for that one!
By today's standards, the detail on the model is only so-so - but in its day, it was the bee's knee for sure. However, the omission of the original car's distinctive wheels is almost criminal. That's the only real criticism I have of this model.
Any long term Tomica collector will know not to apply the stickers, no matter how tempting. They always look tacky quickly and will yellow and peel off pretty soon too.
1984 was the final year the Gr.5 cars like this were raced in Japan. The R30 Skyline then began competing in Group C racing sporting the same Tomica colors as this car and again with Hasemi behind the wheel. What an incredible period of production-car based racing. A truly epic era.