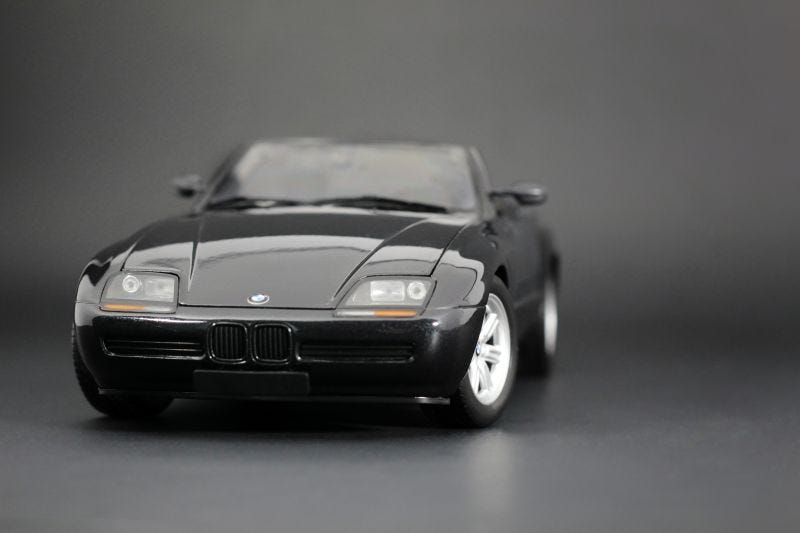 10. BMW Z1 from Minichamps

Definitely my favorite hawl story of the year. I bought this cheap off a seller on eBay who thought the car's doors were missing. Turns out they were just "open" and he didn't know what a Z1 was! I felt so guilty, I bought #6 off him a few weeks later.
9. Toyota SW20 MR2 from Ottomobile

My beloved 1986 MR2 will forever be the one that got away. Ottomobile released this second-gen earlier in February, so its the next best thing I could have on my shelf as a tribute.
8. Bugatti Veyron from Minichamps

eBay finally, finally, started offering sitewide coupons, beginning with a major 20% off at the beginning of spring. I found the biggest ticket item I could find, this big bad Bug right here. I can't (wouldn't) touch an AutoArt Veyron for the kind of money they trade for, but that coupon brought the Minichamps version down into my stratosphere.
7. Nissan R32 Skyline GTR from AutoArt

I'm not a huge JDM fan, but the R32 is my favorite Skyline. I had both the AutoArt and the old Kyosho on my eBay watchlist forever, missing out on deals here and there, but never able to secure one. Finally, Replicarz threw one up for about 50% off during their "Mark Madness" sale in March. I jumped on the gunmetal grey car before they sold out.
6. Aston Martin DBS from Joyride

The guy I bought the Z1 off of had this DBS pop up a few weeks later. Another model I had been searching high and low for, but I wasn't about to spend $200 to have one shipped across the pond. I blame the James Bond tax. This was a boxless score for less than half that!
5. RUF Yellow Bird from GT Spirit

One of my all-time favorite Porsche's. Its legendary. Its the Yellow Bird.
4. Bugatti EB110 from AutoArt

Another car I scored during Replicarz "Mark Madness" sale. I know its not French Racing Blue, but you can't turn down heavily discounted AutoArt's based on the color. Its definitely one that I need to post up for you guys; just need to finish editing the pics!
3. RUF CTR3 from Spark

My freshest hawl, this RUF CTR3; an insane mashup of a Cayman and 997 Turbo. Even in all the excitement that was this past Black Friday/Cyber Monday sales and hawling, I got the alert that I had a hit on my saved eBay search. A seller in Belgium had listed this car, brand new, with a Buy it Now for less than half the price of what I had been tracking them at. I immediately pulled the trigger and have no regrets after opening the model for the first time yesterday.
2. Lamborghini Countach LP500 from Kyosho
Boxless and damaged box auctions are my bread and butter. They're risky models to buy secondhand, but the discount (to me) outweighs the risk. I had a heck of a Fall, getting hit after hit on my saved searches on eBay. This one took some good old-fashion, last second back and forth bidding, but I came out on top. The box of this highly sought after Gorgeous Collection from Kyosho had a damaged box, but was mine for way less than what a car with a pristine box would have cost me. That box is now where all boxes should be: in the closet with other empty boxes.
1. Mercedes-Benz GT Vision from Model-777

I never thought I would get my hands on this one, but American Excellence had an excellent sale on 1:18's over the summer and I couldn't pass up the opportunity to grab one. Its by far the coolest piece in my collection, even if it is a sealed resin model.