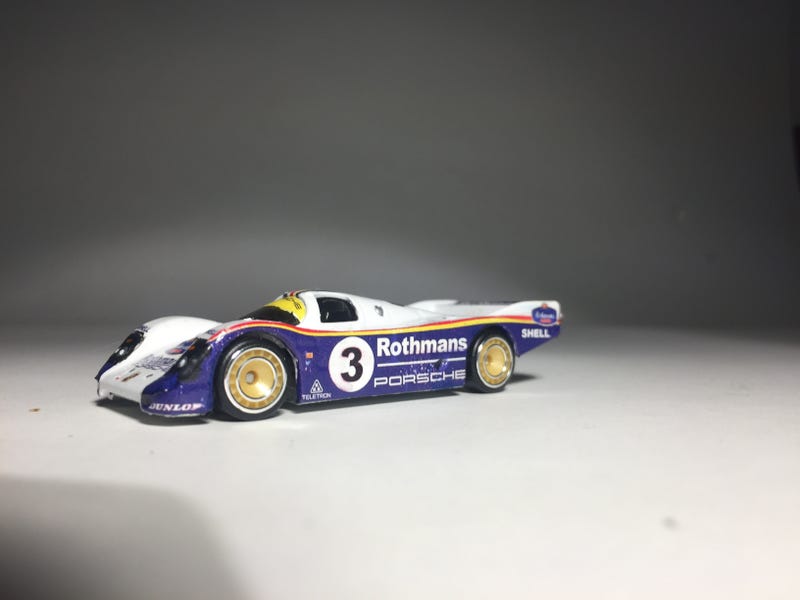 This was supposed to be Part 1 of 3 awesome cars I had planned to release during Car Week. Sadly, it wasn't meant to be complete.
The body itself is 99% done. Just have to add rear orange taillights, but I ran out of the yellowish orange I use for those last night (the bottle spilled...)

But the bigger thing was the wheels. R32Rennsports Jagermeister 962 was a huge part of why I did this build, and I tried to emaulate the turbofans he had done on his car:
While R32 used washers, I couldn't find anything that would fit the inner diameter of the 10SP wheels. So I tried making my own.
This has been the most time consuming part. I cut/drilled out some plastic pieces from packaging for some random tool, and used a drill press and sand paper to sand it into the proper size.
However, between the center circle not lining up, the plastic warping, and other setbacks, I just couldn't get it done in time for tonight.

I also want to add mirrors, but I figured I'd get those done after the wheels.
But anyway, I did get ONE turbofan completed as you can see here:
And that's what the other wheels will hopefully look like. Anyway some background.
This car is based off the Rothmans Works 962 #3 Car. At the 1985 running of LeMans, the #3 was Chassis #004, and DNF with chassis issues. #004 would go into eventually be wrecked in 1987, and converted into a hybrid/rebuild chassis #104C, and it was raced primarily as Joest. #004 chassis is the only Factory supported Works 962 that has never won a race. (I mean, it's history gets hazy after 1987, but as far as I can tell in 1988 it was retired and eventually restored to its former Rothmans glory).
In 1986 at LeMans, chassis #002 would be Rothmans #3. Again, the #3 would DNF for gearbox issues. However, Chassis 002 would have later success, winning a couple races. It to is also restored to Rothmans condition.
Which car is this based on? Both. As far as I can tell, there was no livery changes between 85 and 86.
The decals were done by Netzo_Customs on IG, and while sending him references, I wound up sending both 1985 and 86 pictures, which I only found out about while researching the car further.
I'll be honest. The #1 reason I picked the 3 Car is strictly because #3 is my favorite number.
So, anyway, while not completed, I figured I'd still show it off in uncompleted form for Car Week.
PS- I picked this car for White, as the blue is a decal.