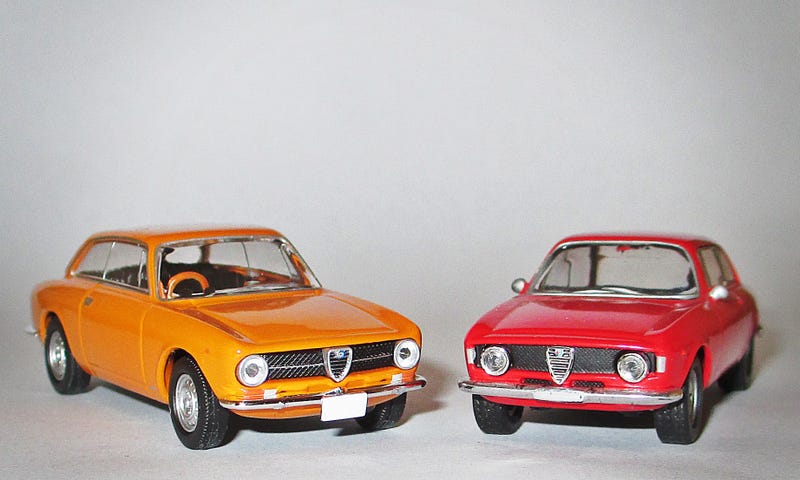 I've been meaning to do this for a while - pitch a Kyosho versus a Tomica TLV model of the same (or in this case, very similar) car. And the contestants here are the Tomica TLV GT 1600 Junior against the Kyosho Sprint GTA 1600.
As you can see, the Kyosho is based off the pre-1970 models with the "stepped" hood, the Tomica has the post-1970s front end. The "step" on the hood is not really visible on the Kyosho model though. Pity.
On to the side view: The Kyosho gets brownie points for the side mirror, but loses them again for the over-enthusiastically applied paint on them. It also does not have any paint on the door handles, where the Tomica has them neatly applied.
The wheels? You be the judge. To my eyes, the Kyosho wheels look a lot better,but there's not much in it when viewed with the naked eye rather than the merciless digicam.
On to the rear view:
Here the Kyosho scores with separate tail light pieces, which are multi-coloured to boot - nice! However, in this photo you can see that the Tomica has a far more detailed interior, and even features the "wooden" steering wheel with the "metal" spokes. That looks really nice too.
And there's an area where the Tomica really shines that you can't show in the photos - the "feel". It is a lot heavier in the hand, rolls smoother, and has that nice Tomica suspension I love. It is simply a pleasure to roll around on the table. The Kyosho feels a lot lighter and cheaper. And as you can see from the pics, there are some paint errors on the "chrome" window and mirror bits. That sort of thing is fine on a two Dollar Hot Wheels, but not really cool on a premium price item like the Kyosho.
The higher Quality look and feel of the Tomica, plus the superior packaging make it an easy winner in this contest. As has been noted here several times, the TLV line could do with better wheels, and a few more separate tail light bits. But overall, this is the best of the "Euro" TLVs for me so far. In fact, I liked it so much that I ordered the GT1300J and 1750GTV models as well. Oops, I did it again...