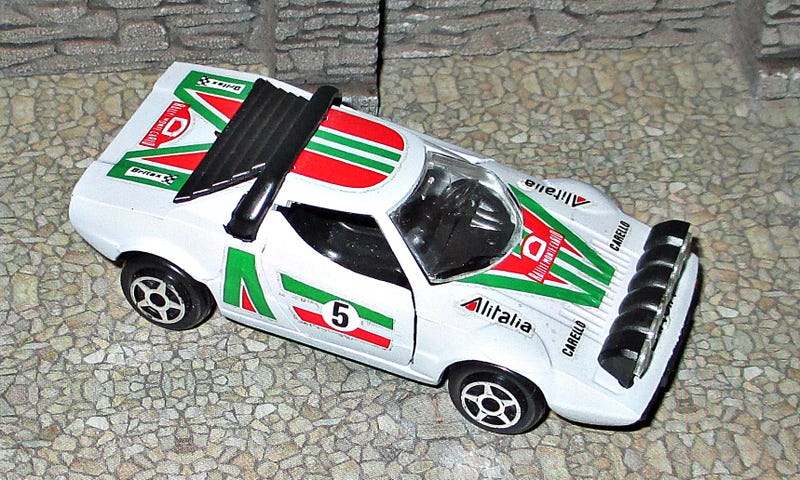 Vintage Diecast Alert! This is not some modern day CAD wonder by Kyosho or CMs - this is an original Norev Jet-car from "back in the day". The copyright stamp on the base states 1977, which gels with my memory of it being from the very late 70s or very early 80s. Just before I started spending my money on a 1:1 and all that goes with it.
These Norev Jet-cars were a cheaper alternative to Solido (and made by the brother of the guy who started Solido). I can't remember how much a Jet-car cost then, but it wasn't a lot.
With its "fast wheels" and "good enough" tampos, it is reminiscent of a 1/43 Hot Wheels car rather than the more collector oriented models offered in this scale.

So why did I buy it despite all of its flaws? It's not that I didn't notice them back then. It is just that in 1979- if you wanted a 1/43 Alitalia Stratos, this was it! I didn't see another one back then. I don't think anyone else made one either. And you couldn't just google for one. No internet. You just never knew what would be out there, if new models were coming in. You would hop on your bike or on the train, go to whichever shop you thought might have something, and hoped. And if there was something you liked, you'd better grab it. They only seemed to order one of everything - ever. Once it was gone, that was it.
Ah yes, the "good old days". They really weren't all that good in some ways, but I still like my old diecast. I remember how much trouble it took to get even something like this.