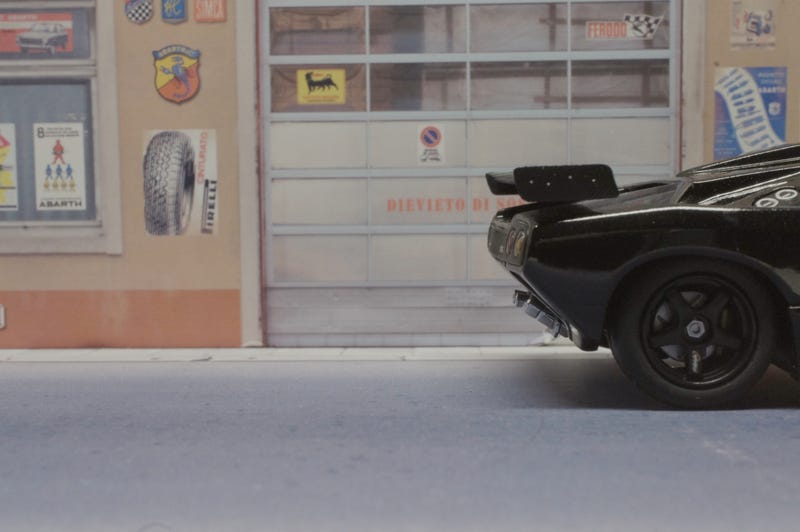 I was so looking forward on doing this one. And setting up stuff to shoot I was let down. By a tiny piece of metal. This Lamborghini just wouldn't get of it's base. Because one of the screws keeping it fixed just wouldn't budge. Independent from the car that is. Resulting in only one way to create the above picture, by doing this:
So if anyone has an idea how to get this little piece of crap released without destroying this nice cast or it's base in the process: Please let me know. It's just a screw for god's sake!
This Kyosho 1/43 deserves to be shot independent from it's base so up until then you'll have to do with some pictures. The usual lecture will follow If I do get it deliberated.
It's got quite the details and this specific one was of the 2006 Kyosho Fair. Whatever that means. I'm just glad it's a GTR without any livery.
One of the details I like about this Kyosho is those headlights. And those wipers. And that interior. Can't believe what I paid for this one.
But I guess that's just what those toy-fair models do. Some of you may remind that Peugeot HX1 Concept I did a little while ago for the 2013 Nürnberg Toy fair: that one was also dead-cheap. Maybe I'm the only one liking these.
So it's a short Spaghetti Sunday for me today but as it's the weekend most of you won't mind. I'm off to Antwerp, hope you all have a great weekend! And if someone knows a way to release this little beauty: I owe you a beer!
Saluti!