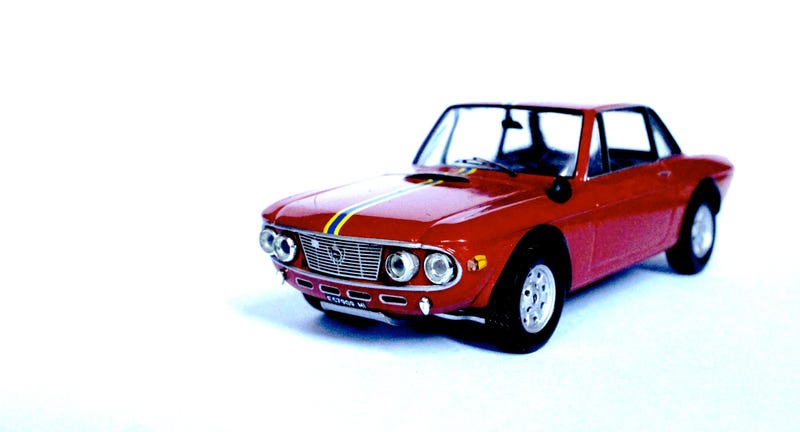 My ending shot last Sunday of my post over diecast-culture in Italy was of a boxy Lancia. The tipo 818.340/341. Also known as the Fulvia Coupé 1.3 HF. That 1.3 and .340/341 I'm guessing though as the undercarriage just states 'Lancia Fulvia'.
It's obviously a Coupé. And it's sure meant to represent the more sporty edition of the Fulvia, that's why I'm suspecting it to be a 1.3. The even more sporty 1.6 "Fanalone" it clearly is not as these came with bigger inner head-lights.
It was this car, with it's 1.3 and later on 1.6 V4-engine (actually it was an VR-engine: 4 cylinders in a narrow V with one cylinder head, as Volkswagen would use for it's Golf and Corrado years later), that brough Lancia back in Motorsports after leaving the Formula One. But this time the focus was: Rally.
And that focus finally lead to Lancia's first International Rally Championship in 1972. The WRC wasn't around yet. But in 1973 that competition was introduced and Lancia didn't win any race nor would it win the Championship, it clearly was at the end of it's early '60's development.
During 1974 however the Fulvia would have been replaced by that epic other rallying Lancia, the Stratos. And the Stratos meant Lancia's first WRC championship, although the first rallies of that season the Fulvia still managed to score some hard needed points.

This IXO has been fallen into the hans of my lovely 3-years old (since this week!) so some things are missing: One wiper, the exhaust tip and it's rear license-plate. No: The two holes in the back are not meant to abduct fumes or waste-gate pressures, that's simply where the rear plate was locked in.
But IXO really tried to make something out of this little "lunchbox". They even created a "wooden" dashboard, completely with a chromed "Fulvia" decal as the original did have.
That's not too bad for a diecast of this value. Although I just checked Ebay and noticed people asking 27 euros for these, IIRC I paid just over 10 euros back then.
A real HF will cost you dearly, a nice "normal" Coupé can still be found for reasonable prices. But better hurry as the 5k euros for a real nice one isn't realistic anymore. Still: for under 10k you should be able to find a decent one. Maybe I just should have bought my next door neighbors pristine baby-blue 1.3S 8 years ago when he offered it to me for 4k...
So why the "Elefantino" in the post's title? That's Italian for elephant of course. And the elephant was the sign of privateer Enrico Anselmi's rallycars, amongst those a Lancia Aurelia. He allowed the Lancia team to use "his" elephant. And that's what Lancia Squadra Corsa started doing in 1965: use the little "running" red elephant on their cars in combination with the letter "HF". And that's what you all saw on the HF Integrales as well I suppose.
And speaking of the Fulvia, I saw the one competing the Safari Rally in the Musee dell'Automobili di Torino as well. That's some big-ass wheels it has...
Saluti!