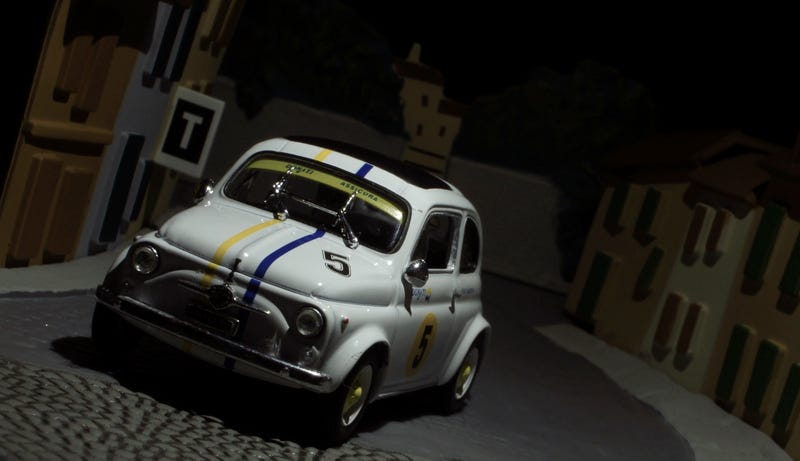 I had a colleague a little while back who ran a small diecast webshop next to his work. Concentrating on Italian cars. It was more of a hobby for 'm, but when he realized he'd never be able to earn a living out of it he quit. And offered me quite some cast in the process. For very, very little.
One of the things I got from him were some small dioramas from Atlas (I think Universal Hobbies made these) with sporty backpacks: tuned Cinquecentos. Today I'll show a bit more of the "Donati" Abarth 595.
And as far as I can tell it is "just" a normal Abarth 595 Essesse. Driven by Renato Donati. And although pretty well known in Italy (there's even a 1/18 - actually it's a 1/16 - by Bburago of this model!) I know next to nothing about Renato Donati.
I know there was an aviator breaking a world record on altitude in 1934. But I doubt this to be the same person as we're a few decades later with this Abarth.
I know there's a book on the Abarth 595 and 695 by Elvio Deganello and Renato Donati. The book covers the history and has a buying guide as well and somehow I expect this Renato Donati to be the same person who tracked this little beast.
And googling "Donati" in Italian websites doesn't really help either. Not that I have that many issues reading that beautiful language but Donati means "donated" as well.
So I'd better concentrate on the model. As I said it's an Atlas/Universal Hobbies in 1/43. Two things make instantly clear this is far from a premium brand: Those window wipers (although positioned historically correct!) and the fact it's engine cover is closed. These all raced with the back open, just check out the picture of that 1:1!
Okay, and that paint is a bit too thick. Furthermore: Excellent job, especially for the price these went for (slightly over 10 euros, I didn't even pay half of that IIRC!). And you might already know I'm a sucker for dioramas.
Nothing more for today, hope you all have an excellent weekend.
Ciao Tutti!