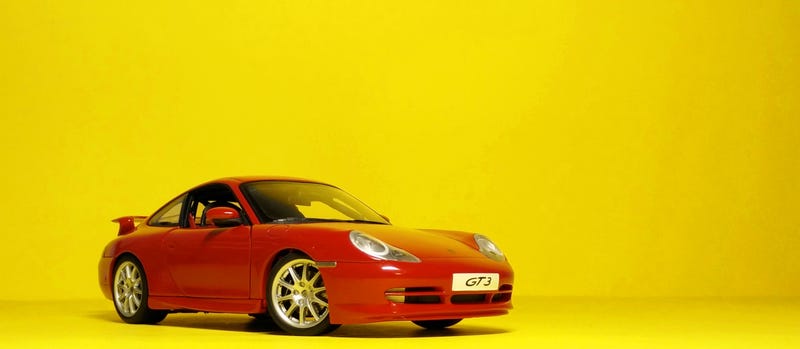 I like my eggs sunny-side-up, but this....I'll take this too. #Team996. Who's with me?
This is the Porsche 911 (996) GT3, by AUTOart. Also known as, the "runny egg" 911.
As you know, the 996 is my favorite 911. The GT3, however, was not my favorite version of the 996. Take off that wing and you have what looks like a base Carrera. The front fascia has none of the aggressiveness that the Carrera 4, Turbo, or GT2 have. The wheels are kind of bland, to be honest. But now that I have this model in hand, my opinion of the GT3 has completely changed. It's like the sleeper of the bunch - looks like the nice guy of the lot, but is just as brutal as the others.
I scored a nice deal on this sucker, winning the auction for a total of $70 shipped, brand-new-in-box to boot, thus completing my 996 Turbo-GT2-GT3 trio. The model, fantastic. Wheels. Brakes. Interior. Look at those seatbelts! Even the weight feels really nice. None of that plasticky feeling when you handle the model, unlike some older AUTOarts. For those of you interested, there's a yellow one for $100 shipped OBO. Highly recommend.