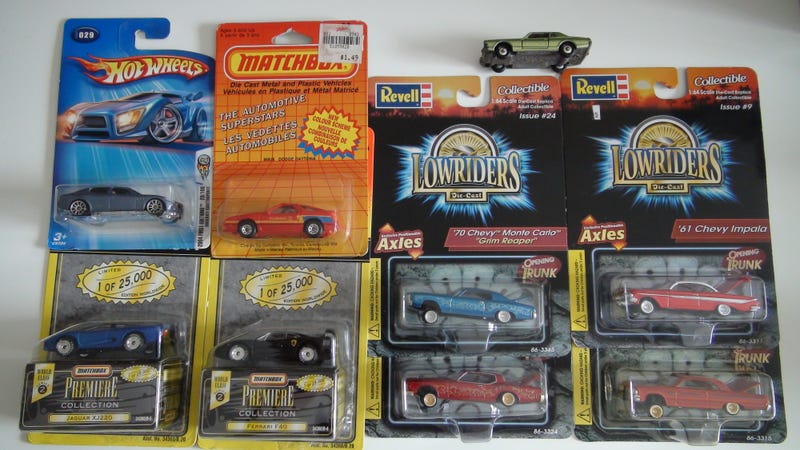 Well, last Sunday I attended the Scarborough Diecast Show & Swap again, and picked up many more things.

The show is apparently pretty well known online for what it offers, though most posts I see online (i.e. Instagram) are of people HAWLing Supers and older HW Mainlines.
This time I went with a better idea of what to expect and what to expect to buy.
I picked up this Maserati Quattroporte on my first go-around, since I've been looking for a mint one to accompany my loose one with worn wheel paint. This one was pretty much a steal, considering that another one was at the swap meet priced at a few times more. Now that I have one, I might customize my previous one sometime. That time, however, will be a while after I make my foray into diecast customizing, based on all your wonderful tips.
I spotted this Dodge Daytona last time, but by the time I decided to buy it, the vendor already left. It's not my favourite release of it (that's the 1984 burgundy-on-silver version), but it's been on my Want List for awhile, and it's always nice to score something you would've otherwise resorted to eBay for.
I also found this playworn Matchbox Mercury Cougar from 1968-1969, which I posted about before. This one, from the Regular Wheels era, has a broken tow hook, but is otherwise complete, and is my first old diecast with steering.
Even more impressive are these Revell Lowriders. I had seen this series mentioned a couple times on LaLD, and elsewhere too, and I found them pretty neat, so I decided to pick up a few. I'm keeping the two Impalas for myself, and the other two will be up for trade once I have my trades sorted later this summer, though first rights of refusal go to 90sCasualty. Do keep in mind that I am in Canada, where shipping is much more expensive (even locally!) than the US.
Finally, I found a couple of Matchbox Premiere releases from 1997. These two are from the apparently European Premiere World Class Series 2. Oddly enough, the flap on one side of each one appears to be printed upside down. Since these are my first boxed Premieres, I don't know if that's normal, normal only for the European releases, or completely unusual. Either way, these were quite a steal too, and much cheaper than the 600SEL posted yesterday.
Overall, I'm pretty happy with what I found!