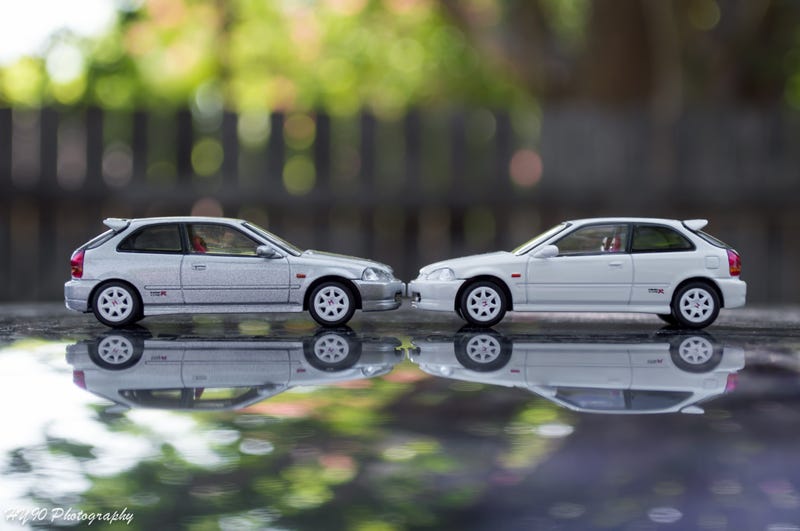 After coming back, readjusting to the time difference and getting things sorted out, I thought I should share a bit of my recent trip to Taiwan.

Well, at least the diecast side of it. It's been roughly two years since I last set foot in Taiwan and quite honestly, I can't wait to go back. Being on a "tropical island" Taiwan is known for its humidity and Godforsaking heat. However, the small nations also known for its glorious street food and at least to me, the diecast galore...
Like a lot of Asian countries, the diecast/toy realm is quite surreal. It's not uncommon to see grown adults digging their ways through a bunch of Tomicas, buying rather expensive action figures and so forth.
The diecast hunting in Taiwan was absolutely mind blowning. Forget digging through Hotwheels bins. Forget driving out of your way just to find the most up to date diecast. The amount of hobby stores and shops specializing in diecast can be found in almost any part of Taipei. Starting with the local supermarket
Day 1: After getting off the plane and settling in, I had to grab something to eat at the local supermarket. Right as I walked in, I was greeted by this rather impressive "dump bin" full of Tomicas. The selections included your typical regular Tomicas, Tomica premiums as well as Disney/Star Wars/Hong Kong exclusives. Prices ranged from around 110NTD to 250NTD, so roughly ($3.72-$8.47) depending on the casting. Overall, a pretty good deal compared to what you'd get stateside with shipping and all.
Day 1 continued:
Those who has been to Taipei would recognize this infamous spot right away. Shin Kong Mitsukoshi is a chained Japanese mall with locations spread all throughout Taiwan. The most famous of them all resides near Taipei 101. Not only did this specific location offered the most up to date selection of Tomicas I've seen set, but the Tomica Limited Vintages were no slouch either.
However, being a somewhat upper class mall, prices weren't exactly a bargain. Basic Tomicas costed 125NTD (~$4.24 usd) to 1,200NTD ($40.68 usd) for more desirable TLVs.
Day 2: Ximending Building
Having family in Taipei meant that I only had a limited amount of time catered to my diecast hunting. One of the locations I managed to check out was this hobby store located in the ximending district of Taipei. Unlike most hobby stores, this one focused solely on high end 1/18 and 1/43s, with the ocassional 1/87 scales.
It was here that I had to hardest time leaving. Any car enthusiast would. You could literally spend hours just glancing and staring at these beauties... and so I did.
The store featured endless selections of BBRs, CMCs, MRs, Autoarts, minichamps, Kyosho, dealer editions.. you name it. However, being a small nation where everything besides food are expensive, prices for these were astronomically high compared to the states.
Take a 1/18 Autoart 991.1 GT3 RS for example. A Miami blue one at this store would cost you 6,500NTD which equates to $220usd...
as much as I wanted to walk away with a few castings, I simply couldn't due to limited luggage space as well as a limited amount of cash..
Day 2 continue: Night market find
Taiwan is also known for its rather busy night life. Night markets would consist of endless food stands, countless stores selling pretty much the same things and so forth. In one of them, which I honestly forgot the location of, I found a rather intriguing greenlight green machine. Seems like the seller didn't know what a Green Machine was because this was listed at a somewhat of a bargain..600NTD. While the motor max pagani above was listed at an astronomical 1380NTD.. as tempting as it was, I didn't pick it up simply because I could care less for Greenlights
Day 3: Taipei 101
Day 3 didn't yield any diecast but a Roger Dubuis location was showcasing their latest watch inspired by the Aventador. However... I couldn't care less about the watch. My focus was strictly on these 1/18 MR Aventador S Limited to just 50 pieces worldwide... and 4 of them just sat in a display right in front of me...
Day 4: SOGO
Another mall I had the opportunity to go to was one that's pretty damn close to my heart. This mall was essentially where I grew up until I moved stateside at the age of 6. SOGO's another Japanese mall that featured 8 stories with the top floor reserved for all things toy related.
Besides Shi Kong Mitsouka, SOGO has the most complete selection and the most up to date castings. Unlike most Tomica stores I went to, this one actually had all the castings in stock.
Not sure how clear the picture is, but the TLV selections were up to date, with the R34 Skyline sedan and the TLV transporter in the back... not to mention the wide array of GTRs available.
Unfortunately I didn't picky anything up from this location because prices here were nearly identical to what you'd find on Japanbooster (With shipping INCLUDED)
Day 5: Toy World
This was one of the only places I found Hotwheels in. Similar to how we view Tomicas in the states, Hotwheels are considered "rare" and more "desirable" compared to their Japanese counterparts. Ironically, this was where I found my first gold camaro Chase.. had to fly half way across the world to finally find one.. unfortunately, it was part of the multipack that the store put together.
This store also featured a nice selection of Majorettes and from the looks of them, they look pretty up to date. I was honestly surprised to see that the store had a good amount of the Dubai police cars that I thought were exclusive to Dubai...interesting
Well...thanks for reading through this rather long post and checking out the pictures. The diecast was only a small portion of my time in Taiwan. Taipei is a fantastic place filled with vibrant cultures, amazing food and a busy life similar to what you'd find in NYC. Below I have also included pictures of some notable food I had there (not diecast related but felt like I had to share.