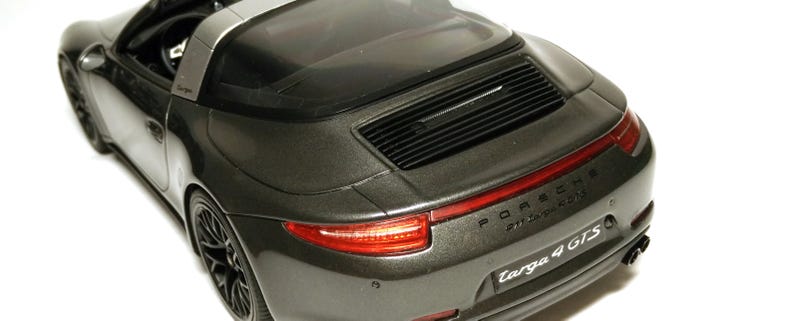 You guys may remember Pillarless Coupe's review of the 911 Targa 4 GTS, produced by Schuco. Great model, but its merits are tempered by the fact that the wheels are blatantly large, making it more suitable as an off-roader than a weekend cruiser. I thought about it, but ultimately took a different route.
So here we have the same car, but this one instead is produced by GT Spirit.
And what you'll notice is that it actually looks like a proper 911. It's not the eye-popping blue shade that PC's is, but the metallic dark grey paint makes this Targa look mighty handsome. This is a CK-exclusive colorway, which means it comes in a white box and is limited to 504 pieces. Bottom line, for about five bucks less than the Schuco, it's a great resin alternative for those who want a 991 Targa that looks accurate to the 1:1.
I'm gonna have to pick up one of the Schuco 991's to do a proper comparo, but I would not bet against the GT Spirit being the more detailed of the two. Solid front grille aside, this model has it all. I love the way the rear badges are done, 3D-textured with the black finish. Then there's the detail in the head and foglights. And those brakes.
Black wheels compliment the dark grey paint very well. I love the shape of the Targa and the continuous-taillight cluster of the Carrera 4, so this particular trim has the best of both worlds. Throw in those GTS wheels and we have not only yet another superfluous 911 model, but one of the best-looking at that.