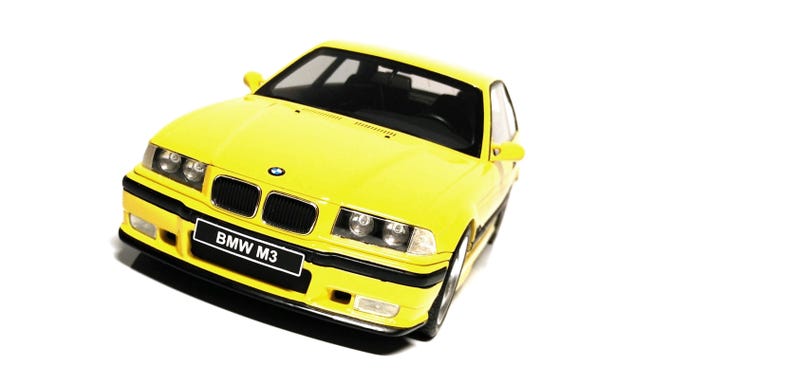 Otto's newest release, the BMW M3 (E36) in Dakar Yellow.
The E36 is my favorite generation M3, and although us folks here in the U.S. received the dumbed-down version, it's still one of the 1:1's I foresee owning in the near future as a life-sized toy. I still regret not picking up the Estoril Blue version of this same car that was released a while back. Before I knew it, the value of those shot up to the mid-to-high $100's when I could've had it for about $110 shipped around late last year. Thankfully, this one came around, and it's in my favorite E36 color.
It's a bit of a lazy effort on Otto's part because it's simply a recolor, but I can always use more of these in the collection. Otherwise, there's not much to comment about here. I've already reviewed the Lightweight/CSL version of the E36 a long time ago, and this is essentially the same thing and built the same way, with no noticeable improvements, if at all. It's far from perfect, as the black trim lines could be more tidy, and the front grilles are all solid. Everything about it looks right, as usual. It's still the best E36 you can get right now.