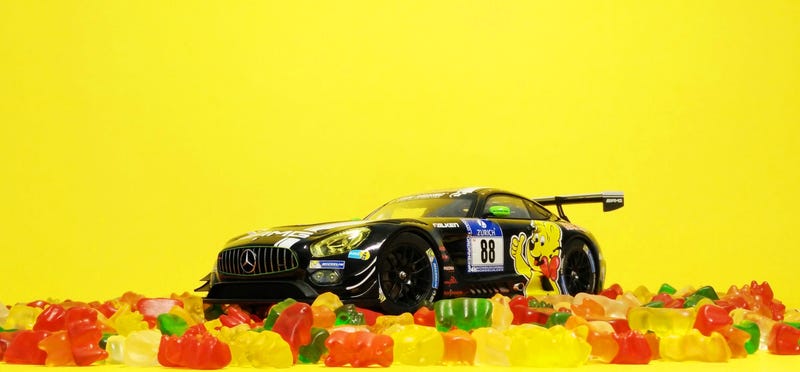 Too much fun.
This is Norev's 1/18 Mercedes-Benz AMG GT3 in Haribo livery. The correlation here is obvious. I went and bought a bunch of candy (perhaps not enough, as I still wasn't able to cover the entire surface with bears) to use as props for this photoshoot....and to eat later on, of course.
The result: a sticky Mercedes and a room that smells like a hookah bar. One bear even threatened to rip part of the stripe tampo off the front hood. Bad bear.
What about the model? It's gorgeous. It's totally sealed, so that's a bit of a bummer, but the details are really well done for a Norev. The livery, again, is what sold it for me, but the car looks pretty wicked in itself. They have other liveries too, if you think you're too old for candy (which you are not). For about 75 Euros, this is easily my favorite Norev model yet.
So for now, I'll keep the gummy bears tucked away in a Ziploc bag while I ponder other possible shots I can do with them. If you have any suggestions, let me know quickly before I start munching!