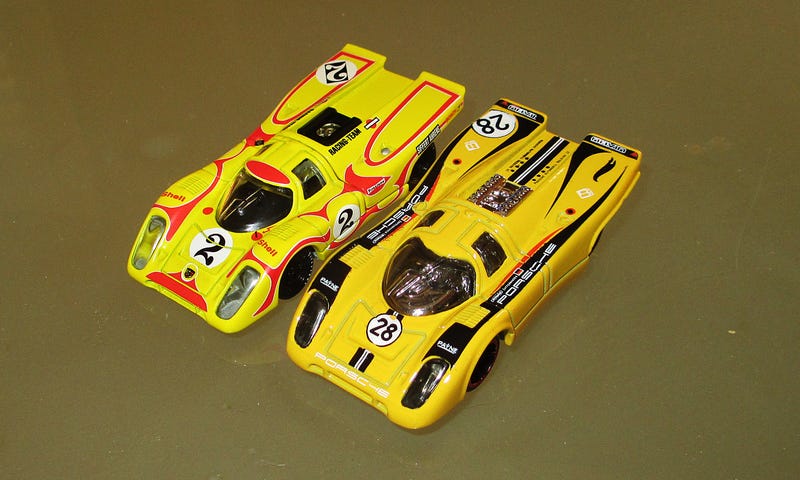 Hello, seeing that I finally found the Porsche Series 917, I wanted to take the occasion to compare it to its older brother, the 100% Hot Wheels 917 from the late 90s.
And the first thing you will notice is that they are remarkably similar - though not identical. The older 100% casting is ahead of the newcomer in a few areas. First is the paint job. This particular version has the realistic paint job of the car which ran in the 9 Hours of Kyalami in 1970. It was driven by Jo Siffert and Kurt Ahrens to second place - behind Jackie Icks in the Ferrari 512.
The second major difference is the opening engine bay, which is cast shut on the newer version. Just a pity then that there is not much engine detail under the hood!
As you can see, it also has more detailed tampo all round, a metal base and real riders, so it does have a better quality feel overall.
One last advantage the 100% has is the more realistic look of the engine bay, with its distinctive cooling fan:
The Porsche Series engine has a not very convincing chrome job. Some Hot Wheels resources treat this as the same casting, but as you can see there are major differences - even if it is obviously derived from the 100% Hot Wheels model.
So what to make of it all? For the price. the Porsche Series model is great value. The 100% model came our 12 years ago in 2003. And back then, I think they cost US$ 10.00 in the shops in the US. Around here, they were AU$ 25.00 - 30.00 - ouch! But there simply were no better 1/64 scale models around at the time. If you wanted the best, this was it.
But - is there anything else I still want? Well, yes, the 100% model in Gulf colours. But in order to get that, I will need to find this set below from 1999. For a decent price. And I haven't been able to do that for the last 16 years. Who knows, maybe one day.