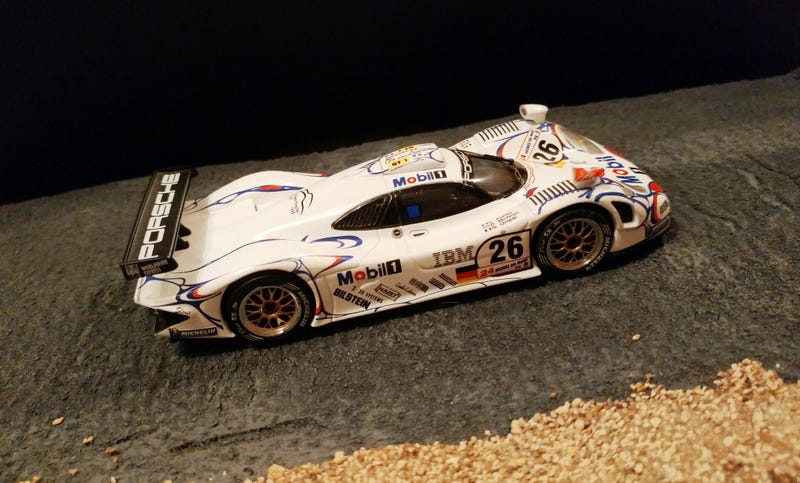 Edu-petrolhead's post on Rubens Barichello (who will be racing in this year's Le Mans 24H in the LMP2 category in the #29 car with Racing Team Nederland alongside Dutch legend Jan Lammers and Frits van Eerd) showed a fun way to highlight a car using the driver's carreer. So let's dig into one of my favorite Scottish drivers: Allan McNish.
This multitalented driver/commentator/journalist was born in Dumfries, Scotland on December 29, 1969. Like fellow Scot David Coulthard, he started carting at Dumfries and Galloway. After winning a McLaren/Autosport BRDC Young Driver of the Year award, he moved up to car racing, he won the 1988 Formula Vauxhall Lotus Championship, and was second in the 1989 British Formula 3 Championship. While racing in the F3000 series in Europe he focussed on a chance to get into Formula 1 for much of the '90s, but never really got a good foot in the door, despite testing with Benetton and McLaren.
After this failure to land in F1 he turned to sportscar racing and landed with Porsche in 1996. In 1997 his Roock Racing GT1 lasted only 8 laps, but the follwing year he won the Le Mans 24H alongside Laurent Aïello and Stephane Ortelli, this time for the Porsche factory team.
After a DNF in the Toyota GT-One in 1999, McNish started his legendary Audi carreer, winning twice (2008 and 2013 alongside Mr. Le Mans himself, Tom Kristensen), two P2 finishes (2000 and 2012), and four P3 finishes ('05, '06, '09, '10).
McNish also won the American Le Mans series in '06 and '07, and the FIA WEC in 2013 with Tom Kristensen and Loic Duval.
He did finally make it into F1 in 2001 with the newly formed Toyota team, scoring no points in his 17 races that season. Unfortunately a pit crew error cost him his only shot in Malaysia.
After retiring in 2013 McNish started in a different role at Audi, liaising between drivers and engineers. He also worked for the BBC as a commentator for their F1 coverage.
One interesting tidbit is that in the late 1980s he shared an apartment with Mika Häkkinen.
The model is a 1:43 resin by Onyx, and was my first foray into the world of 1:43 Porsches. It's a nicely detailed model, and all the decals still look excellent, despite it being an older model. The only flaw I can find is one of the Bilstein logos on the underside of the spoiler is messed up. And it even rolls a little bit!
Can't wait for the race to come this year!! 3 days left. Whoo!