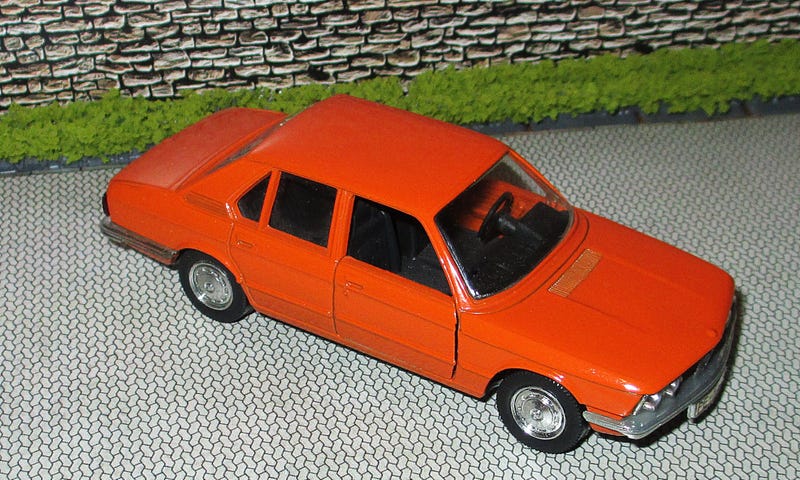 Time for another dip into my Vintage Diecast box - and here we have a 1/43 Schuco BME 520 from "back in the day".
It was the first "5-series" BMW and was made from 1972-1981 (or 1984 in South Africa). The original engine options in the first year were only the 2.0l with either carburetors or Kugelfischer injection. The carb version produced 115hp with a top speed of 175km/h. Not really the stuff of legends, but enough to qualify as a sporty sedan in those days.
The first 6-cylinder was introduced in 1973 - the 525, which took the M30 engine from the large sedans. Successively more powerful engines were introduced over the years, all the way up to the M535i in 1979, which was the predecessor of the M5s. But there was also a poverty pack 518 to cater for the post oil-crisis years.
The design was supposedly inspired by the Bertone "Garmisch 2002" show car from 1970 - though it is a bit hard to tell if that is really the case.

As already mentioned, this is a 1/43 Schuco model from the time of the original car. And they were the top quality models in their day, offering opening parts, a great level of detail and factory spec colours. An interesting feature is that there are no rivets or screws holding the models together. To take them apart, you simply have to pull off the front and rear fenders. Hours of fun as a kid, I tell you.
That's all for today - there's more 70s German cars in lurid colours coming this way in the following week, if you like that sort of thing.