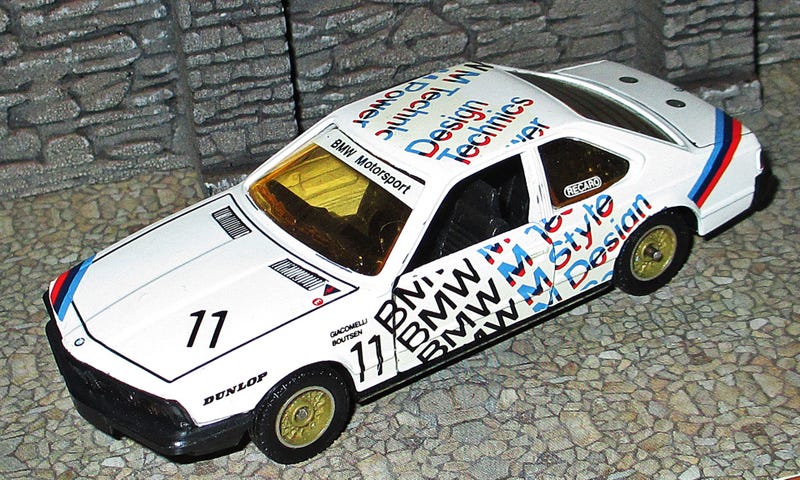 Here's another one of my old Norevs - a somewhat special version of their BMW 633CSi casting. Most of the Norev Jet-car models roll on generic wheels like Saturday's Lancia Stratos. But here Norev have given the shark nose BMW the special treatment with bespoke gold wheels and rubber tyres.
On the upside, there wheels make the casting look so much better. On the down side, they rub against the body and so the model is essentially static - it doesn't roll at all.
The paint job and detailing is also far better then on most Jet-cars. But here is where I need help from the BMW experts here - was there ever a 6-series racer that looked like that? In my memory, there was. But the closest thing I could find on the net was this Schnitzer car - not quite like it, though a bit similar:
In other respects, this one is like any other Norev of that era - quite light weight, with a plastic base and a general low quality feel about it.
It also looks fairly small for a 1/43 - though I haven't run a tape measure over it to confirm the true scale. The brown-ish glass also form the front lights, and gives them a slightly French looking tint:
I've never seen another one like it and wouldn't mind finding out why it is so different from the other Norev Jet-cars. Norev also made more standard looking versions, so I am thinking this may have been a promotional item - but who knows?