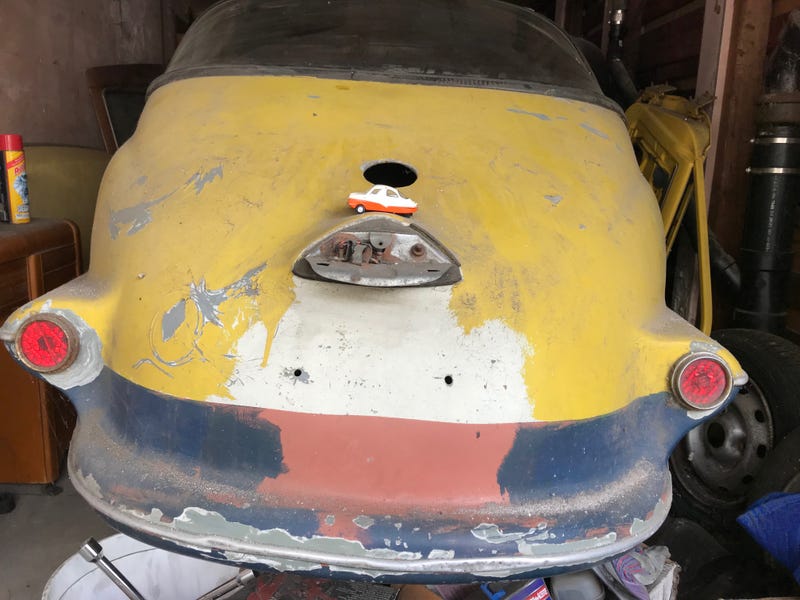 Happy New Year, LaLDers. This seems like a good time to present my favorite car, the Fuldamobil, here in 1:43 and 1:1 scales.
I wrote a long, two-part Oppo post about Fuldamobils a few years ago if you're interested in learning all about how this fantastic little car came to be.
The Fuldamobil was the brainchild of Norbert Stevenson, a part-time engineer and former German soldier who was obsessed with bringing postwar Germany a cheap, people's car. He formed the company with an in-law who owned a Bosch electronics factory and they began producing pretty primitive 3-wheelers. The cars were distinguished by looking like a space pod built by aliens who only used hand tools, and an clever bit of engineering in the front suspension that gave stability through a negative scrub radius.
Even though they were building cars one by one by hand and selling barely a dozen cars a month, they kept improving and evolving its design. First they gave it an updated, but no less weird bulbous aluminum body. And then they went to fiberglass, a brand new technology at the time.
The fiberglass cars were called the S-7 and that's what we have here. Mine was built in 1960 as microcar sales were beginning to wind down in Europe. Incredibly, though, Fuldamobils were produced in Germany until 1969. One of the reasons the factory stayed open was that they had licensed the design of this car to small manufacturers all over the globe. From Chile to England to India and Greece, handfuls of these sputtered out of tiny assembly lines.
The S-7 is powered by an 8.5 horsepower, single cylinder 200cc Sachs two-stroke motor. This was a fairly ubiquitous microcar engine. It also powered the Messerschmitt KR200.
I bought my car 15 years ago from a small microcar museum in Germany. As you can see, I haven't done much work to it. This is pretty much how I found it although I did recover the seat, and the motor is now apart. It's such a simple car, when I finally have the time, money, and room to work on it, it shouldn't be as scary a project as it looks. The fiberglass shell is in almost perfect condition, protected by what seems like house paint.
The engine was coated in sand when I removed it almost like this thing was driven on a beach. Old cars always have such interesting stories, I wish I knew this one's. I imagine it's pretty hilarious.
The model is a 1:43 by Best of Show that I found on Amazon for a decent price.
It's really nicely done and I love the orange. Mine's going to be cream over burgundy, but this has me thinking I should have gone with orange. The upholstery is already burgundy houndstooth, so orange won't work any more.
There's lovely detail on this car. The seats have an accurate plaid pattern. The chrome trim is just right. They did go overboard with the dash buttons and gauges, however. You really just get a speedo and some switches. It's also shown as a three-wheeler, but the vast majority of S-7's had two rear wheels positioned close together to eliminate the need for a differential.
And I love that they included an exhaust pipe and muffler, but it's totally inaccurate.
This company also makes an N-2, the first Fuldamobil model, so I'm going to have to pick one of those up at some point. That's my dream car, so hopefully they did as good a job with that one.