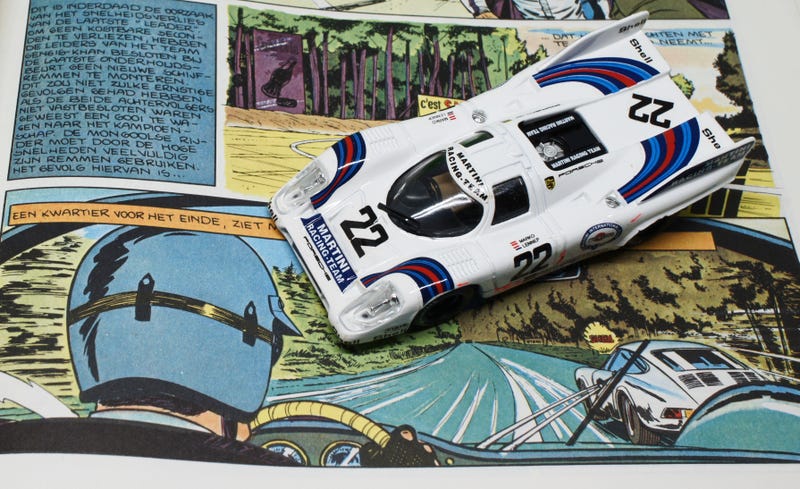 Still 4 days and a few hours. Well, it depends on the time you're reading this but I can't fix that. So here's a clock to live by next few days:

And yes, another 917 from me. I've shown the winner of the 1970 winner last year so it's only fair to show the 917 that won the race exactly one year later. And there's a Dutch twist in here as it was driven by Gijs van Lennep. And Dr. Helmut Marko. There's a Dutch twist to the doctor as well (doctor of Law) as he currently is some sort of mentor to Max Verstappen in the Red Bull Formula 1 team.
And the Doctor and Gijs really did an amazing job, setting a record of a staggering 397 laps that would not be beaten in almost 40 years when Audi released it's fury in 2010. Porsche was helped with this record though: both by new ruling (limiting the size of the engines) and a new track layout (chicanes on the Mulsanne straight).

So 1971 was an iconic edition of the 24 hours. Porsche 917K. Not just the winning Martini car, number two was another Porsche 917K. Competing for John Wyer Automotive Engineering Ltd. John who? The one that used that other iconic livery. Blue and Orange. Gulf.
And as it's iconic it is well known. And documented. Even on these parts: Edu-Petrolhead did a Concours d'Modella on an Ixo of the #22 car of 1971 here for example. So I can focus on the model a bit.
Which is a 1/43 Brumm. And you can really tell it has been in storage at the shop I got it from for quite some time. The livery shows some de-coloration near the edges. Those headlights are from another era in the diecast 1/43 world. And you can clearly tell the molds Brumm used for this one were at the end-of-life looking at the non-crispness.
Especially those rear fenders suffer from that. But as this one was from that huge clearance sale I mentioned before when I showed the Best Models 908 last week I can't complain for 10 euros.
And why don't I just regard those rough edged of the cast as battle-scars? And it's a nice add-on to have next to my 1970 KG Salzburg 917.
One other iconic feature was killed though at the 1971 24 Heures du Mans: It was the first edition to start using the safer rolling start method (the Indianapolis start), instead of running to the cars and start driving like lunatics without being buckled up decently.
And that's it for today. I hope to get some more support on the best race of the years you guys, we need to see more Le Mans goodness!
Tschüss!