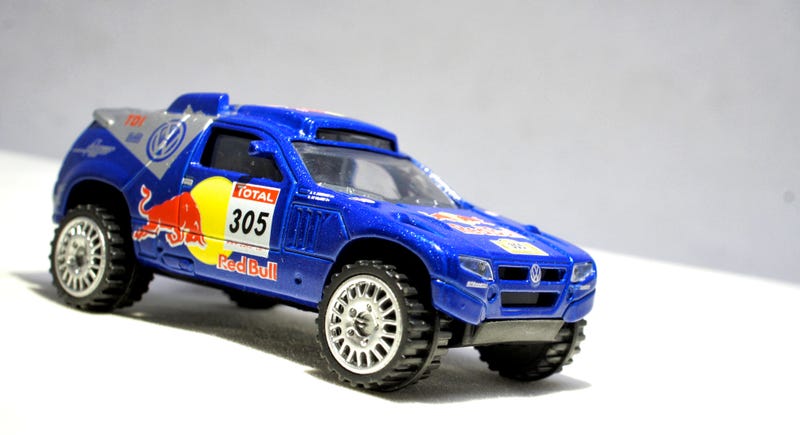 This one might look a bit familiar as it was the one that featured last year's Paris Dakar post. In a bigger scale that is, that one was a Minichamps 1/43. This one is a Norev 3 inch. Missing a lot of details the 1/43 has but still: a very decent interpretation!
Of course, being a Norev, it was driven by a French sounding guy. Giniel De Villiers. Although he did come from South Africa. His co-pilot was totally Teutonic: Dirk Von Zitzewitz.
They competed in the 2009 edition of Paris Dakar. Which had nothing to do with either Paris or Dakar as it was completely run in Argentina an Chile.All this due to concerns about possible terrorist attacks that had already resulted in the cancellation of the 2008 Dakar Rally.
Giniel was an experienced driver, having competed in the Dakar Raids for 5 years already before 2009, even winning some stages (for both Nissan and VW). The 2009 edition however they won. Impressive? Of course. If you know Carlos Sainz (also VW) was leading all the time though but eventually had to give up after rolling his Volkswagen Toureg into a ravine in Stage 12 (of 14), winning 6 stages while Giniel only won 4 (finishing 3 more stages): Let's just say he was at least a bit lucky for having his teammate crash.
A year later he wasn't as lucky. In 2010 he finished 7th, as the last VW of Volkswagen Motorsport. Sainz finally won that edition.
I'll spare you the technical details on this V12 5 pot diesel engined beast as the Minichamps post has plenty of that. So we can focus a bit on the model.
This Norev I got in a Racing 5-pack. The same pack in which the 208 T16 and DS3 WRC were in. As said: Not as realistic as the Minichamps 1/43 but one big advantage it has over that one: IT ROLLS!
And still decent details looking at the high positioned mirror and those tampos. One thing I feel Norev should improve: those wheels. I'm stoked it rolls but the Race Touareg had way beefier tires, not these flat ones.
Tires themselves look a bit odd as well with this profile but hey: it's a toy! And Norev actually has some great race and rally cars, I sure hope they'll give us some Group B goodness in the future.
And that's it for today. I'll pull out some other stuff next weeks as I might have flooded a bit too much Norevs lately. I'm just glad I could show a diesel...
Tschüss!