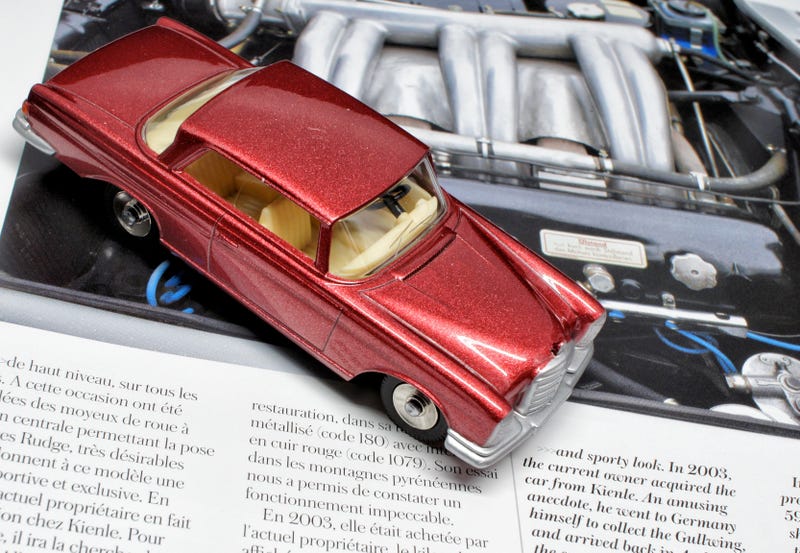 I don't seem to have a lot of vintage stuff but at one day I got a bunch of Dinky Toys (1/43 re-release) for cheap that I showed casts from before. Like the BMW 1500 I showed during Shark week quite some time ago.

This one however is even more Teutonic as I don't think there's a more Teutonic brand than Mercedes. Well, Maybach maybe. And this is the then top of the line W112 300SE. In two-door coupe trim. Or wait, there was the capo-di-tutti-capi 600 available back then?
Fitted with the 3.0 litre fuel-injected M189 straight six-cylinder it was still based on the W111, the Fintail. But someone around these parts better fill you in on those details as he has far more knowledge on these than I have.
I do know I have fond memories to a W112 although that wasn't a coupé but a convertible. A friend of my next-door neighbor in my way younger years had one and often took us where we wanted to go. Probably enjoying it even more than we did behind the wheel and actually being able to look outside.
And for it's time it wasn't a slow car either. 180hp Sounds laughable now for a top of the line car from the Oberklasse. But the W112 was used for racing and rallying, often referred to as the Rennflosse.
It's not to be mistaken for the generation that brought us AMG's Rote Sau though, that was the next generation W108/W109 when Mercedes really went all-out in the Tourenwagen with it's 6.8 V8.
Und das war es Heute. Viel spass and keep ze Germans coming today.
Tschüss!