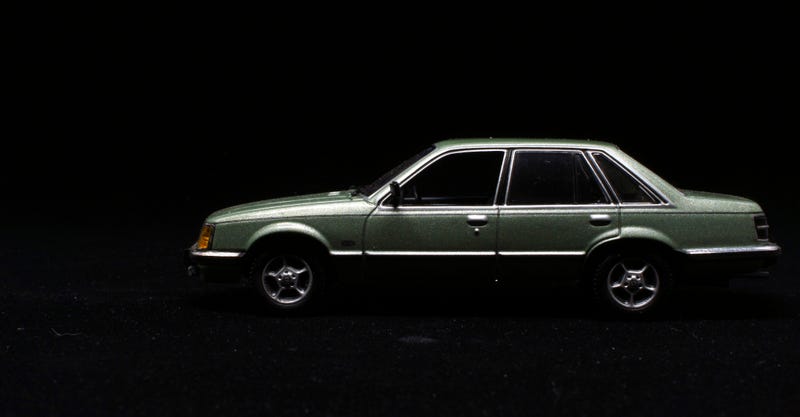 CD. Corps Diplomatique. That's what Opel used for their non-plus-ultra versions. So when you see the CD badge on an Opel it's not because there's an ambassador inside, it's just a trim-level. And this one is the Capo di tutti Capi Opel: the Senator CD.
It's a Senator "A". Opel always uses the alphabet to indicate what generation it is, so this was the first generation of the biggest Opel. Actually it's an "A1" as there was a facelift in 1982 ("A2") and Opel uses numbers to indicate subversions. It was developed to succeed several Opels, the Kapitän, the Admiral and... Wait for it... The Diplomat.
And although it was the biggest Opel, it still was marketed for the "oberen Mittelklasse". As it's still no W126 or 7-series. It's based on a lengthened Opel Rekord E so it inherited the rear-wheel drive of the Rekord. It did not inherit the Rekord's 4 bangers when it came to the petrol engines. It got Opel's then pretty modern 2.5, 2.8 or 3.0 I6 "CIH" (Cam in Head) engines. And on a personal note I can tell you: Pretty bullet proof. My next-door neighbor had a 3.0 and misused that car for years, resulting only in some oil-usage. It never failed on him.
Actually: There were some quality issues with the "A1", that's why the facelifted "A2" got an oilcooler for the 3.0. But if the 180hp of that 3.0 Einspritzung engine wasn't enough you could always check out German tuners Irmscher or Mantzel for a 3,6 Litern Hubraum motor with 200hp.
Opel sold quite some of these: A total of 129.644 Senator A's were sold from 1978 to 1986. Then the Omega A based Senator B was introduced. The B didn't last long though, not even 70K units in 6 years. That actually doesn't sound that bad looking at the A but if you keep in mind that the last 3 years had a total production of 17k units: clearly not many were interested in a big Opel anymore.

That is also the reason it never got a successor. Even worse: The Omega B wasn't superseded either! The FWD Vectra got bigger but no more big RWD Opels for Europe. No matter how complete the CD always was: It had airco, heated seats, automatic transmission, electric windows, Scheinwerfer-Wisch-Wasch-Anlage (you see those little wipers at the head lights?), all stuff the other German brands in this class asked you an amount of cash for you could buy an Opel Kadett with!
The CD only came in five metallic colors: Weißgold, Opalgrün, Aquamarinblau, Astrosilber or Achatrot. The Minichamps 1/43 you see here is one in Opalgrün. And I think most of the Senator A1's were sold in this color. It's definitely not my favorite Opel based on the Rekord E. The Monza was a Hatchback coupé with the same engines but a more sporty look. And there was this little company from Schwelm (Germany) that converted Senators into an even more eccentric/distinctive coupé: Bitter Cars. Both are for future TT's.
Das war es wieder für Heute. My second Opel for Teutonic Tuesday but definitely not my last. Next to those Senator/Rekord derivates I've got some nice Concepts I'd like to share and I still have to find both the Lotus-influenced Omega and Speedster. Tschüss!