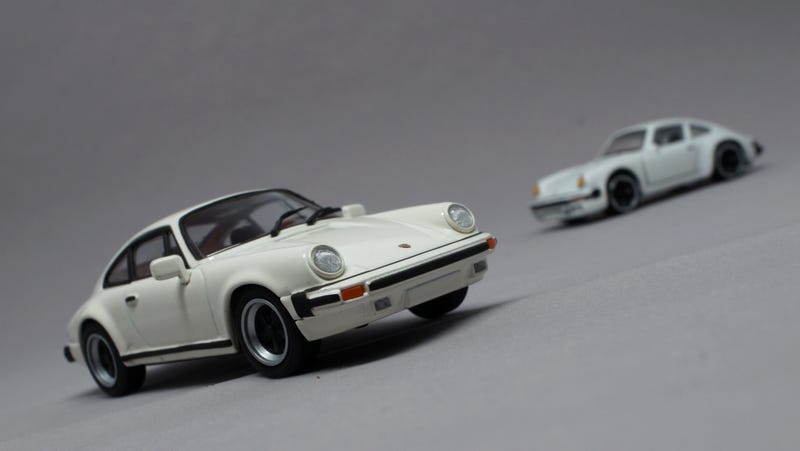 I've had a 1/12 copy of my 1:1 car for years now. And thanks to Philipilihp I've got one in 1/64 as well, his customization even is prepared for the yellow lens-swap. Thus far though, no 1/43 came by. Up until I ran into this old Minichamps in an online auction. So I had to have it. And Philipilihp's custom tagged along during shooting it...

It's not an exact copy though. As you see the interior is red while mine is black. But there's another thing that sets it apart. Totally. As the 1/43 is no 911 Carrera 3.2 but a...
911 Three-liter Sport Carrera (SC). The predecessor of my 3.2. So I'll just have to display it with the engine lid facing backwards and not many will notice it anyway...
And it's actually an announcement as well, this post, as my 2nd Philipilihp custom is on it's way from the other side of the Atlantic. And yes: Another Porsche it is. With a similar profile but another car, from another era.

As I said, this 1/43 is a bit of an old Minichamps. So it doesn't house in a black box but in the silver/blue one. And it has a base without scripting whatsoever. Not even sure if it's limited to about thousand pieces like the usual MC's. But it definitely is the only 1/43 I've had in my hands that comes this near to my 1:1.
The form of the mirrors is correct, they're just slightly too big. And the engine lid seems to have a kink just over the rear reflector. Otherwise: Pretty neat. No spinning wheels though.
Und das war es wieder. This really is one of my favorite casts, for obvious reasons, and it probably never will go. Just like that 1:1.
Tschüss!