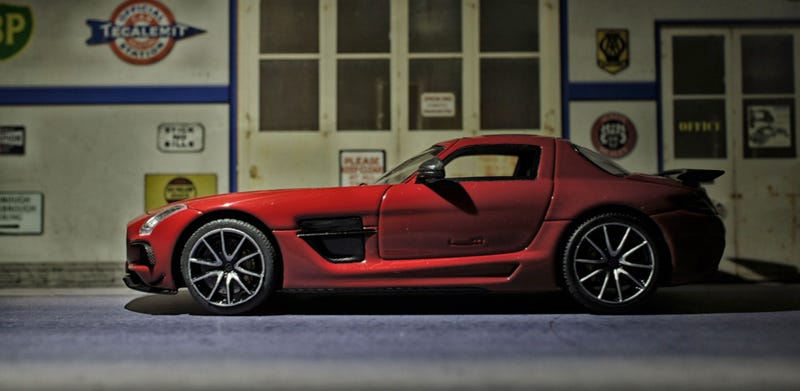 I never liked the SLR AMG McLaren. The nose was way too long, those twin oval headlights looked old fashioned when it was introduced and the chrome trim pieces on the side vents: just not my cup of tea. But then I heard one. And believe me: There's little out there that beats the sound of it.
Then came the way more balanced SLS AMG. The one that really reminded me of the epic SLR Uhlenhaut Coupe. SLS stands for "Sport Leicht Super" but with 1600 kgs of weight I can hardly call it light. It is sporty though. And to me it's Super!
Building was a logistical nightmare. Aluminium body was build at the same manufacturer that builds Unimogs and G-class Mercedeses: Magna Steyr (Puch) in Graz. Engines in Affalterbach at Mercedes' own "M-Sport": AMG. And these are all assembled at Sindelfingen at the former Glas factory, currently owned by Daimler AG.
Well, I'm sure other companies use several locations as well but these aren't exactly nearby each other. Let's just say it's a challenge. But most is done by hand anyway.
It's design was entirely done by AMG (Mark Fetherston). And it hosted Mercedes latest and last naturally aspirated engine: The M159 engine. Based on the M156 it got dry sump lubrication to handle higher cornering speeds and several other alterations pumped the power to a staggering 563hp. It used 6.2 liter for this so it wasn't that high per liter (the E36 M3 already got over 100hp/liter) but still a massive amount of horses!
In good AMG/Mercedes tradition it got an automatic gearbox (mounted transaxle-style) as Mercedes always claimed their high torque engine would need that a heavy-duty clutch it would be barely useable by common mortars. They did use a dual clutch 7 speed though so it was suitable for the track.

As David Coulthard was involved in developing it's chassis and, for instance, Lewis Hamilton owned an SLS no one needs proof for it's track capability anyway. According to Jeremy Clarkson it was the thinking man's supercar.
Jay Leno is another SLS owner that really convinces me about the qualities of the SLS. He's a real petrolhead, right? It really doesn't have to be a Black Series like the one you see here.
The one you see here is a Minichamps in 1/43. It's profile certainly shows it's FMR layout with the engine entirely behind the front axle. It's front tires had been too long on the base: they're a bit flat now. They weren't sticky to the base though.
I just feel the mirrors are a tad too big. Otherwise it's a great model although it's one of the few models I'd like to have doors that could actually open. Would have at least doubled the costs if they'd do it properly though.
I'm not sure what I feel about the AMG GT come to think of it. I know that one is in a price range that's way more competitive to it's Stuttgart rival. But Mercedes having a car in it's lineup that is capable of at least getting near the top of Porsche's range sounds like a great idea. To me.
And on that bomb-shell... Tschüss!