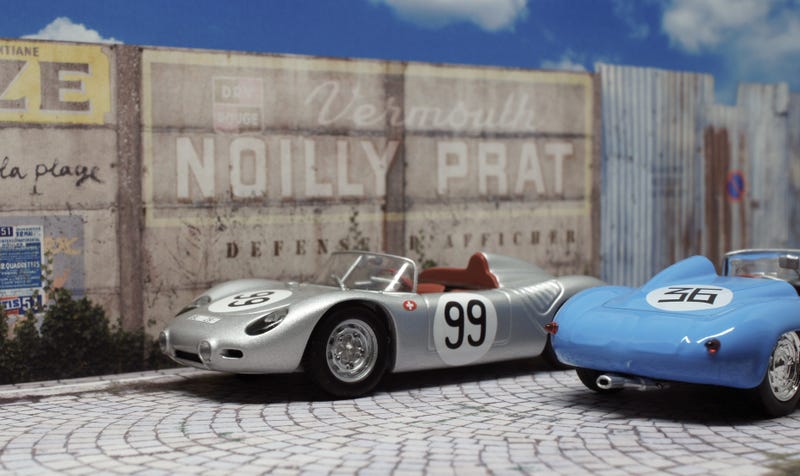 Yes: that time of the year again: in two weeks the race of races will take place, the 24 hours of Le Mans! And what better moment to display a Le Mans car I've shown before, a Porsche 718RS60. This time not a Solido but a Minichamps and wait a minute, I'll just do a small compare.
And of course the winner is clear but keep in mind the MC will set you back at least three times the Solido will. Worth it? To me it definitely is as it's still not that expensive and the details are great.
And the thing about the Solido that bugged me the most were that rear grille and those chromed wheels. Both of which were solved by Minichamps perfectly.
The paint of the MC seems to be better as well, the Solido's blue clearly is too thick. The MC's is spot-on though. Both are 1/43's.
In fact the number 99 above is a bit of a cheat for this subject as this exact one never competed at the circuit de la Sarthe, this one was a champ on all kinds of Hillclimbs. Plenty of the 718's did compete in the 24 Heures du Mans so that in combination with these amazing good looks should qualify to be on display today anyway!
As I've done a piece on the 718 before there's no need to tell that much about it anymore. The 718 was one of the last Mohicans for Porsche as after this development to the 550 the 904 came. With it's heavier engines. Not just a flat-4 as the 718 had: a flat-8 was used at the 1964 edition of the 24 Hours of Le Mans as well. And after that all hell broke loose leading to the gazillion horsepower 917. Eventually.
Maybe I'll show a 917 next week, maybe even a winning one. I'm sure I've got one somewhere...
So, das war es wieder. I sure hope to see a lot of Le Mans cars next few weeks. The weekend of June 18th I'm off-line, that's for sure. Tschüss!