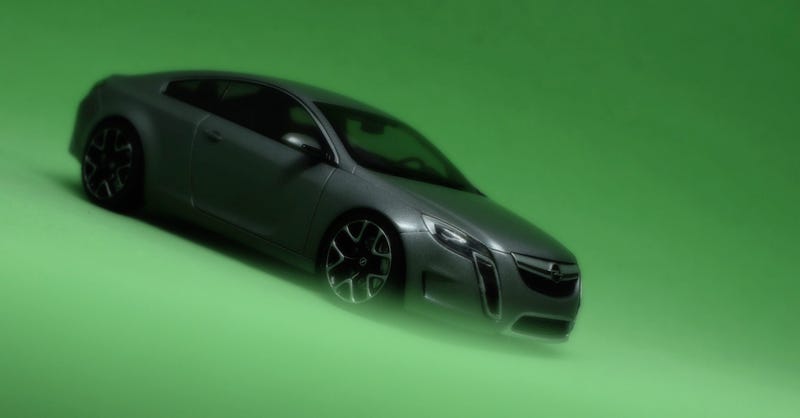 It's been a while since I showed a concept. This one is from GM's German manufacturer Opel: The GTC Concept. Introduced at the 2007 Salon international de l'automobile in Geneva it was supposed to show Opel's idea of how a coupe of their Vectra C (the last of the Vectras) could look like.
According to Opel that is. Because as we all know now it was just a hint into the direction of how the Vectra's successor was going to look like. The Insignia. Or, for our American readers: The Buick Regal.
There was a 2003 Concept called Insignia already and the grille on that one seems to be alike this one and the actual Insignia. That concept was bigger, had an FR-layout and got the engine of a Corvette. No need to explain that Opel didn't reach production...
As Opel already decided no "big Opels" would be built anymore after the unsuccessful RWD Senator B and the Omega B. But back to the GTC Concept.
It got the 2.8 V6 Turbo engine we know from several other GM products. The Saab 9-3 Aero for instance. In this GTC Concept it was supposed to put out 300 hp and it featured all wheel drive to "apply the power effectively". And that engine and nose (those extra grilles under it's headlights) it would share with the top of the line Opel Insignia introduced a year later: The Insignia OPC.
That production car would even add a bit more hp and deliver 325hp. Still the Opel Insignia isn't a big hit for Opel. The days Opel would compete for being the European bestseller with VW in any class has long been gone...
The GTC badge Opel later also would use. Not on the Insignia but on the Astra J's 3-door "coupé". The rear lights on this GTC Concept do look like the ones on that Astra's. So it was definitely an "influence" for Opel designers to use for developing their new lineup.
The model itself is from Schuco and it's 1/43. Schuco made a few Opel Concepts and they came in nice packaging. Luckily for me the concepts, over here, rarely "do much" on online auctions so I got this one, in a lot of 3 (with the Frogster and that above mentioned Insignia), for 18 euros.
This one is the best of those three though. And probably the most important one as well. Although much of the actual design of the production cars might have been done already when this one was shown in Geneva.
And that's it for today. I don't expect a lot of concepts today. Although Lesney and Majorette in the old days produced lots of diecast based on concepts. But that's (maybe) for another day. Tschüss!