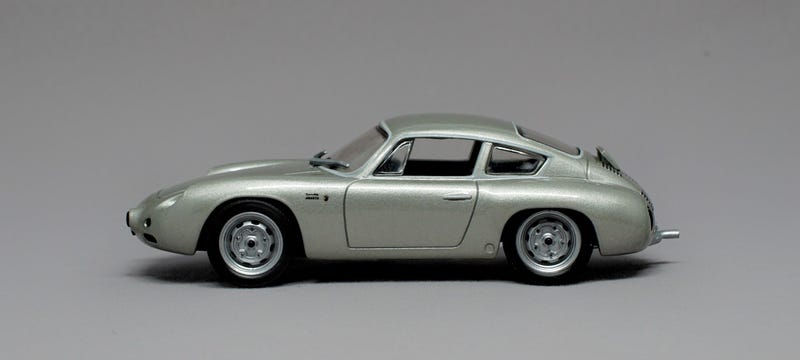 This car only exists because of the fact Porsche was absorbed with its Formula I program in 1959. So, to keep momentum in it's GT-racing, Porsche needed a miracle.
To keep it's aging GT Carreras competitive Porsche clearly needed someone from the outside to build about 20 lightweight bodies for the standard 356B chassis. And as Porsche knew Carlo Abarth from an earlier project (Ferdinand worked with him on the Cisitalia Tipo 360, also known as the "Porsche-Cisitalia") the deal with Abarth was made quickly.
And so the Porsche Abarth Carrera GTL was created. Or was it? Because the one actually doing the work wasn't Carlo Abarth. Without telling Ferdinand, Carlo hired Franco Scaglione to design, and the carrozziere Viarengo & Filipponi to build the new, and I might add glorious, body.
Although to me it's still obviously related to the 356 it differed quite a bitt: over five inches were chopped off the standard Porsche Carrera's height and it lost little under five inch from its width. Elimination of bumpers made its overall length a bit shorter but I feel the nose is longer and look at that exhaust sticking out. It certainly has better aerodynamics with a reduction of the frontal area by 15%.
Furthermore Abarth and Scaglione got rid of over 100 pounds compared to the normal Carrera. And with that rear-mounted 1587 cc flat four with twin overhead camshafts it became quite the successful sportscar. Those 135 horses at 6500 rpm may not sound that impressive but remember: 1960 had yet to begin! And it was just 780kgs.
Of course Porsche took it to the track. It did Le Mans in 1960. And promptly won it's GT1.6 FIA class. In front of Porsche's 718 that actually was a class higher (S1.6).
It wasn't perfect when Carlo delivered the car in Zuffenhausen though. Porsche immediately took out the interior. And the engine couldn't get rid of it's heat so Porsche added a few extra ventilation grilles in the back. Does it show?

And that wasn't the only thing. Carlo didn't really come up with a "dry car". It simply allowed water to come in. And not go out. And yes: Le Mans 1960 was a wet race. Especially for Herbert Linge and Hans Walter, the Germans driving this one. With their feet completely soaked.
After this the Porsche Abarths were successful at Monza as well and some other events. A year later and after that it's mainly hillclimbs and local events you could spot these.
The model itself is from Metro.mo.it, a "magazine model" as I've shown before. A true series dedicated to Abarth, what's not to love?
And I can't get enough of these for the price you can get 'm for. Never over 10 euros. And always a great story to 'm. And that's it für Heute!
Tschüss!