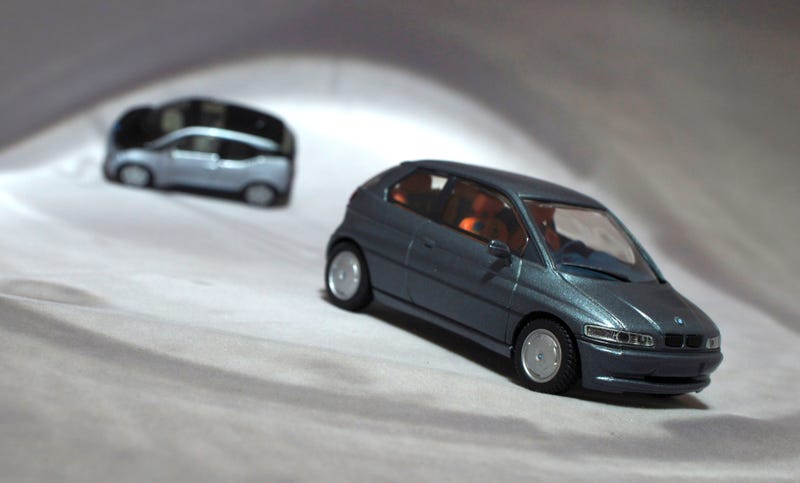 With the i3 and i8 BMW is pretty active in the electric car business. And their Efficient Dynamics program took me a bit by surprise as they were always a brand dedicated to Freude am Fahren to me. But BMW did show the world the direction they were heading in 1991. With the E1.

That first E1, the Werkskode Z11, looked different than this one though. That first one went up in flames, electric cars were pretty dangerous back then obviously. Still BMW wanted to research the concept somewhat more so they introduced this second E1, Werkskode Z15, at the 1993 Internationale Automobil-Ausstellung in Frankfurt.
And was that first gen E1 pure electric: for the second gen E1 a customer - would it have reached production - could opt for three configurations. And unlike the first gen the RWD (and rear engine) was dropped and all was relocated upfront.
The first configuration had a conventional combustion engine. BMW needed a small engine for that of course so they turned to there motorbike department and detuned a K1100RS engine. This 1100 cm³ 16 valve engine put out 82hp and was optimized for torque, nevertheless it had no problems whatsoever with the 800kg car. 180 km/h, 6 liters of fuel every 100km.
The second configuration was a fully electric one. It was 100 kg heavier, thanks to an extra 19kWh molten salt battery (manufactured by household appliances producer AEG) packed under the backseat, instead of the fuel tank. It's electric motor put out 45hp and 150Nm so it's speed was a bit limited: 125 km/h. It's range capacity of 265km was very decent for 1993 standards.
The third and last configuration was a hybrid that combined both engines and had a smaller battery and a 40 liter fuel tank. It was the heaviest with 930kgs. So probably combined this one was the quickest although that 130kg penalty to the fuel-only car is quite significant.
BMW released several press photos for their second generation E1. One in teal/grean (with license plate M-JE 9483, yes: that "M" is for Munich) and one in red (license plate M-JE 9482). The green one was on the IAA. This model however seems to be a greenish grey but that color I never saw it in.
The model is a 1/43 by Minichamps. And I don't have many concepts but somehow I feel this concept to be significant for BMW's decision to go green a bit and bring us the amazing i3 and that epici8.
When it comes to details I'm a bit confused. That color and interior I can't really explain. But maybe I'm not aware of a third concept. The Hofmeister kink is somewhat too "edged", that is all I can come up with actually. Well, I think there's a window missing on that trunk-lid, the BMW roundel is supposed to be "floating in glass".
Und das war es wieder. Maybe I'll put another German concept on display over here next week if there's any interest in these.
Time to put this one back in it's vault. Tschüss!