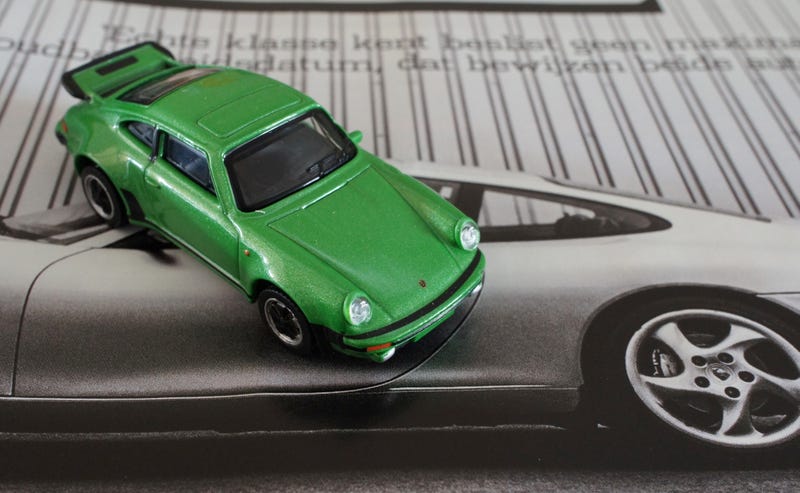 "What is this with all these High-end 1/64's?" the board of directors of the Simba Dickie Group must have thought. Kyosho, Tomica, even ze fellow 'Germans' of Minichamps had a line of 1/64's. Simba Dickie produced 1/64s under their Majorette brand but these were more sort of children's toys. So...
Simba Dickie had Schuco, another subsidiary, present a lot of new diecast vehicles on the 2014 Nüremburg Toy Fair. And not just their "normal" casts in 1/87 (HO) and 1/43, no this time Schuco announced the start of producing a series of 1/64 diecast vehicles! And I imagine most of the attendees being shocked as all these announced 1/64s were of German origin. Me myself: I was quite pleased.
As it involved lots of Porsches. And one of them the widowmaker of the '70's, Porsche's 930. Porsche's infamous first road-going 911 Turbo. And I'm sure I can skip the usual history lecture as the story of the 930 is a very well known tale.
But at first, at the fair, not many orders were placed. This probably had to do with the all-German line up and the fact that the pre-production cars were not as nice as the actual casts were. For example, the red Audi R8 came with a red blade in it's introduction pictures, while the actual production R8 had a silver blade.
And, these weren't cheap either. Average price is about 8 euros. And although pretty nice for a 1/64, it's not a match for Minichamps64. Those Fuchs-Wheels look good, the spoiler is pretty accurate and they even tampo'd the side-signal lights. But one thing Minichamps would never have tolerated leaving it's factory is a car with such a non-authentic A-pillar. The 911 of this era had a very thin A-pillar (great for visibility, don't start about safety), I suppose this one is at least three times the actual size.
The back end of the car should be somewhat lower on it's wheels as well. But everything else: Alright with me. Would I buy another one (they have a brown one as well)? I probably will get that one as well.
I did get a red 991 Turbo in this shipment as well but that wouldn't come of it's base easily so that one will be for another TT. The base is inside a nice box so you can easily store them without damaging the car.
The back of the car is simply epic. It even has the reflector between the rear lights in 'glass'. And although that "Turbo"-decal seems slightly too big, at least they used the right font. Okay, once again, on black this time. Because it's the best rear in the world if you ask me...
So was this the end of Schuco's 1/64 line of cars? Apparently not as on the same Nüremburg Toy Fair, just one year later, Schuco announced even more 1/64s. And this time not just German cars. Minis, 2CV, Huracan, Shuco goes international. A 1/64-BMW Isetta was introduced as well.
Last week I ran into a whole bunch of Schuco 1/64s in my local collector's store. And the owner of the store presented them as being "new", even displayed them in his window display so I'm not sure if Schuco has started some campaign to get some attention to these.
Na Klar! Veilleicht hatte ich zu viele 1/64s gekauft die letzte Monaten. Nächste Woche kein Deutschland Dienstag für mich. I'll be just visiting LaLD now and then as I'm enjoying my holiday. But not before I run another French Friday of course. Auf wiedersehen!