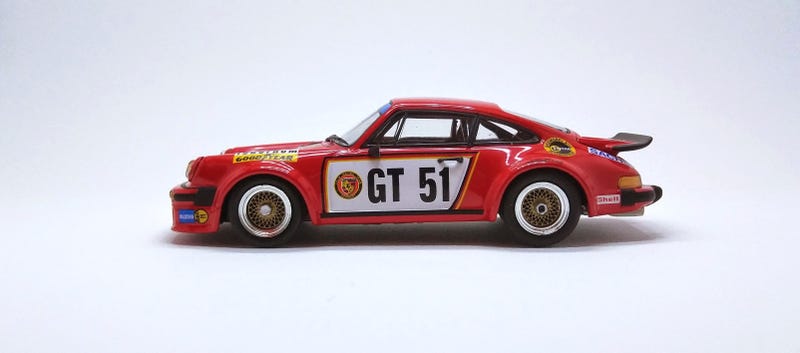 Welcome back to another episode of 1:43 Porsche Racers! This week I have a new addition to the family for you, the 1976 European GT Championship winning Porsche 934 as driven by fellow Dutchman Toine Hezemans! This particular edition of the car came in second overal (first in class) at the ADAC 300km at the Nürburgring on April 4th, 1976.

The Car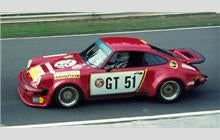 The Porsche 934, introduced in the 1976 season, had a 3 liter flat six under the trunk, producing 480BHP in 1976 and as much as 550BHP in 1977. It was extremely successful in motorsports, continuing to in races well into the late '70s. The most famous version, of course, bears the Jägermeister livery, but there are some other excellent liveries out there: The famous Brumos white with blue and red stripes, the excellent Vaillant teal version, and, of course, this pink Denver car:
The red Georg Loos livery is definitley not my favorite, but I had to go for it since it was a good price, my first Minichamps model, and, of course, driven by a Dutchman.
The Model
As I mentioned above, this beauty was made my Minichamps, and I have to say that I am extremely impressed by the quality and detail. My Ebbro, Best Models, and Vitesse are all excellent, but the one area where I would hands down give it to this Minichamps is the bottom. All three other brands have flat, detail-less bottoms. This 934, however, looks great!
There isn't TOO much to see, but there are exhaust headers and the bottom of the engine and transmission. Works for me!
Enough talking. Roll the tape!
Finally, here is a group shot of my collection so far. The family is growing!
Hope you guys enjoyed the car as much as I have so far, and if anyone can tell me why one of the tail pipes on the 934 is smaller than the other, please let me know!