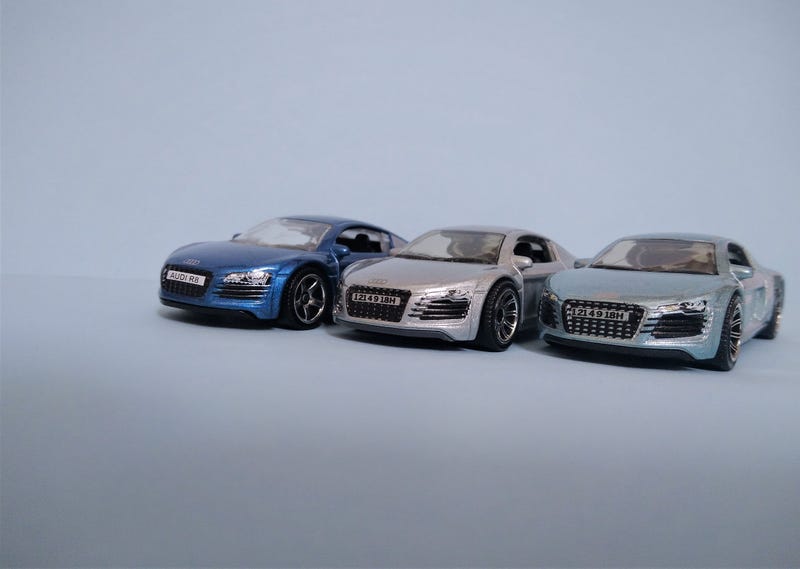 The Audi R8 was Audi's first traditional road-going supercar, released for the 2007 model year, following concepts such as the Audi Avus Quattro from 1991 and the Le Mans Quattro from 2003.
Power came from a 4.2L V8 producing around 420 hp, and in 2009, a 5.2L V10 producing around 520 hp was made an option.

These three are variants of Matchbox's R8 casting, recently released as part of the Globe Travellers series this year. The silver and light blue versions are the debut mainline releases in 2007, with the blue being the recolour. The medium blue version is the 2013 mainline release, the casting's last mainline appearance in the Matchbox lineup.
Exterior detail is excellent, with cleanly molded vents front and rear, side mirrors, and the easily identifiable blade on the side.
The earlier releases are more impressive than the later release, on account of their full rear tampos, in addition to the full front tampos on all three releases. Headlights and tailights are fully replicated, with detailed license plates, vents highlighted in black, Audi logos and badges, and a grille with visible individual rectangles.

Interior detail is likewise excellent, with separate seats, well-molded dashboard lines and center console. There is also some engine detail visible through the rear window.
The scale is listed as 1:62, which seems appropriate. The underbody detail is good, and consistent with the 1:1, which has many underbody panels.

I purchased both the debut releases back when they were new, and they have surprisingly little wear - even the wheel finish is still there. The 2013 release was also purchased new, and being a more recent purchase, still retains the original card and card art.
Thanks for viewing!