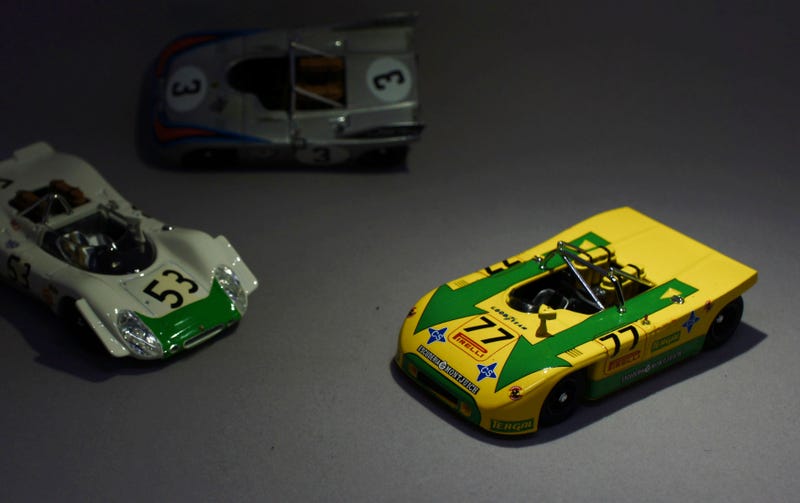 Last week Philipilihp announced on Instagram he'd post a 1/43 Spark Porsche Rennwagen from the Piëch era today. So I really hope he's keeping that promise and thought: Let's join the fun a bit.
Problem is just: I don't have a 907. I do have plenty iterations of it's successor though, the 908. And I even posted on these a few times. So no need to dig up it's history, you know where to go if interested.
The man behind these all was Ferdinand Piëch. And when he was rising to fame within Porsche (after creating the 907, 908 and 917 leading to masses of success in international racing) it was clear his career path at Porsche was ending. As the board of directors at Porsche decided that no member of the Porsche or Piëch families should be involved in the day-to-day operations of the company.
Why Porsche AND Piëch? As Piëch was Ferdinand Porsche's grandson. So he moved to Audi and did his tricks there. Leading to the quattro system. And the hugely successful Audi 100. Making Audi the competitor even BMW and Mercedes started fearing.
And he ended up being the CEO of the entire Volkswagen Group. Recognition came from everywhere, even named Car Executive of the Century in 1999 by the Global Automotive Elections Foundation (same people behind the Car of the Century election).
Not sure if he'd win the Husband of the Century award because as we speak he's married to his 4th wife. With 12 children he might go for the Father of the Century award maybe. His management style was one of divide and conquer and maybe even more of creating plain fear: According to Piëch, he fired any subordinate who "makes the same mistake twice".
A downfall came however after his retirement. He still was in the VAG supervisory board but his efforts to oust chief executive Martin Winterkorn (as he had done before with VW's CEO Bernd Pischetsrieder and Porsche's CEO Wendelin Wiedeking) backfired and led to the resignations of Piëch and his 4th wife from the supervisory board.
Martin Winterkorn however ended up hanging for VW's Diesel gate so it's just a bit windy on the top I suppose. The models you see here are all Best Models in 1/43 except for the closed #21 which is a Schuco. That's it for today, can't wait for Philipilihp to show us his Spark 907!
And another Piëch car on Instagram for me today: the glorious 906. Tschüss!