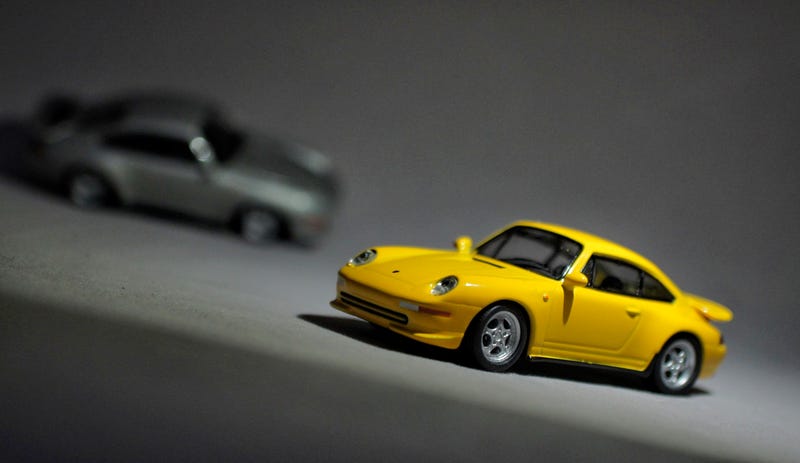 A little while ago I was lucky enough to get a huge pile of Kyosho 1/64s from the Porsche Minicar Collection IV. And I realize I've shown way too little of these little gems.
Although I'm sure Herr Dreizehn (known as 13 in these parts) showed these before as he has the vastest collection of 1/64 Kyoshos I've ever seen. Online that is. Androo has shown the yellow one before as well.
No need to tell about the 993 iteration of the famous Porsche 911. The last of the aircooled beauties. Luftgekühlt. And, just like with it's predecessor the 964, Porsche came up with an RS. For RennSport.
The recipe was one we all know: Slightly more powerful engine (a 3.8 with 300hp), lesser weight (by removing stuff like sound proofing and unnecessary luxuries like headlight washers) and track oriented stuff was added (18" 3-piece wheels, racing seats).
And of course, it wasn't available in the USA. Not even a "RS America", the fake RS Porsche came up with for the 964. In the end 1146 units were produced and of course there were even more hardcore editions like the 3.8RSR. Or the Cup car used for the Porsche Cup.
These Kyoshos are decent replications of the car. Certainly not perfect. The exhausts are stubs, the headlights don't fit perfectly. At least they're glass. And the mirrors definitely shaped slightly different on the 1:1s but I've seen way worse, especially on the early Minicar Collections from Ferrari.
I really was so happy to get a complete box from Kyosho with only one duplicate back then. Kyosho did the 964 Carrera RS as well (I've shown that one before), that one is probably the winner for me.
But that could be due to the fact there's a blue one of the 964 that probably is my favorite 1:1 as well. First World problems...
And that's it for today. There's probably more Porsches coming, as it's Teutonic Tuesday for a reason...
Tschüss!