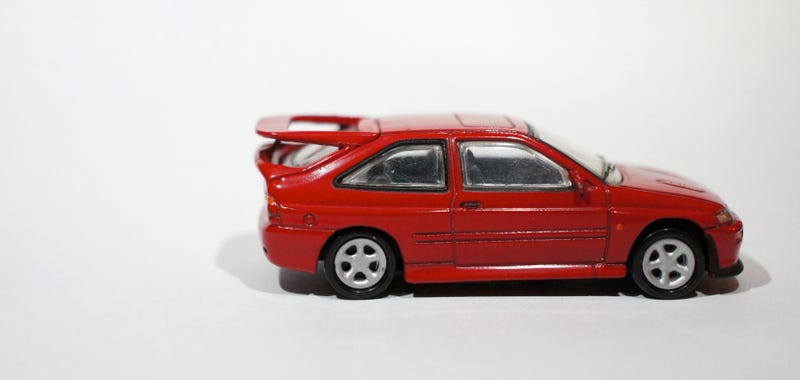 I know the Ford Escorts have a name of being British. Up until the '60's Ford in Europe had actually 3 countries of origin: France, England and Germany. All with their own line-up of models. And the 1st Escort was the first to become a European car, being built in both England and Germany (later on even Belgium IIRC).
But this Escort Cosworth, with it's infamous name, was a development of Ford's European SVO, Special Vehicle Operations, department. Styling was done by MGA Developments in Coventry (GB) and that engine was a... Cosworth (GB) of course. Underneath the Mk5 Ford Escort body it was actually a redeveloped Sierra Cosworth. So why am I displaying this one on Teutonic Tuesday? Because Ford Europe HQ resides in Germany? Nope. Because of this:
Well, I suppose there's lots of German in it but this being a 1/64 copy of a car from Michael Schumacher's personal car collection (not sure if he still has it, only can find info of it being his up until 2008) makes it Teutonic enough to me.
And Michael driving for Benneton-Ford between '91 and '95 probably had something to do with Michael getting one as these were built between '92 and '96. There's another Teutonic link as well as the model is another Microchamps, the 1/64 line from Minichamps a little while back.
And Microchamps really had the 'Michael Schumacher Collection', a fine selection of cars that had something to do with his life. Like this personal Cosworth. And that Benneton-Ford. But also a Sauber C291. And a Fiat 500, the old one. And even a 190 2.3 16 EVO.
But this little red rocket isn't the best Microchamps if you ask me. Maybe I should just clean it up a bit but the exhaust looks weird, the windows seem to be somewhat "lowered" a bit and I'm not even sure it's proportions are entirely correct.
It's somewhat high on it's wheels as well, especially in the front. Those wheels are spot-on though! Still one of the best wheels of the '90's. Totally Out of style but back then I totally loved these.
And as I'm not totally happy with the cast itself I was ready shooting these pretty quickly. And therefor this post ends abruptly. Nevertheless I hope you've enjoyed it and if anyone can elaborate on whether the normal Escort/Focus is British or German: Be my guest!
Tschüss!!!