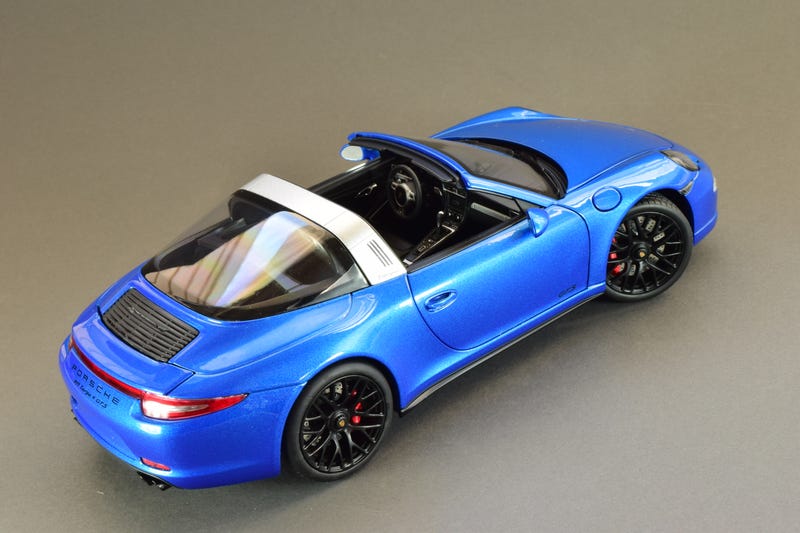 As 2016 was in it's final weeks, I, a self-proclaimed 911 lover, had a bit of a problem. That problem was an absence of any 991 based 911s in my collection. A fortunate series of Black Friday sales, clearance sales, and just plain old sales allowed me to rather quickly rectify that situation, with the collection now sitting at 5 models. And with the addition of this Targa, I now have all the basic body styles represented.
The Targa is by Schuco, and I got it along with the Cayman GT4 as part of the Schuco sale some of the German diecast shops were having. I only got 2 models because of Schuco having a reputation of hit or miss QC, but both of my models arrived issue free.

The paint is as good as anything else in this price range. The panel gaps are excellent as well, save for the hood, which doesn't close flush to the adjacent panels. One nice touch is the Porsche crest on the hood, which is not only 3D, but it also sits in a tiny indention on the hood. Unlike the 1:1, the targa top is removable and does not stow in the car. The engine cover is sealed, but the spoiler is functional. The wheels are a tad large but are otherwise well done, however I am over black wheels. If the fuel door looks like a separate piece, that's because it is.
On the inside, the Schuco brings folding and sliding seats to the party. Oddly though, the front seats do without seat belts, but they are present in the rear. The dash and doors have a good amount of molded and painted details, and since this is not a Minichamps, the interior is carpeted.
As I said above, I was concerned about Schuco's QC issues. While getting 2 issue free cars does not mean it is not a valid concern, if the rest of the product line is as good as this Targa, there will be more in my future.