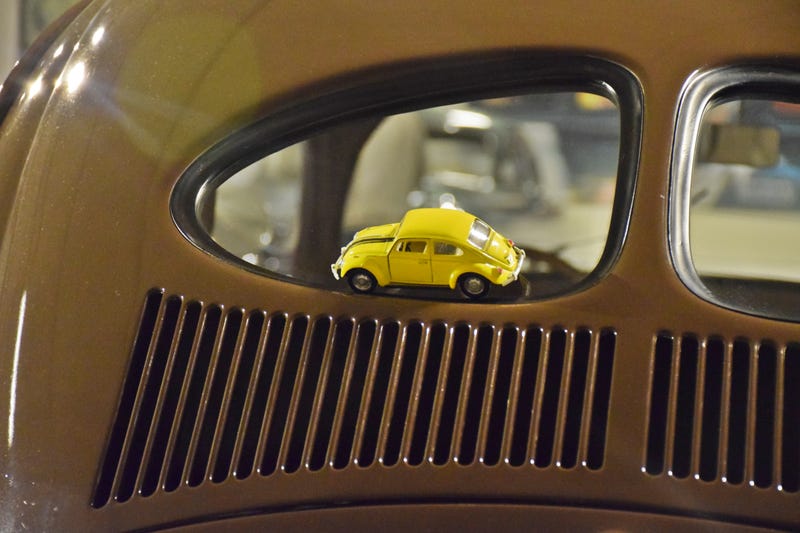 When we heard that the TTB had indeed finally landed in The Netherlands, something had to be done. Something that would be easier to achieve if carried out by a team; Opponauts Unite!

After the Traveling TorchBug's epic trip to Australia and with it coming to such a small and quiet place like the Netherlands it obviously wasn't an option to merely take the TTB to see some windmills, tulip fields, and canals. Clearly.

Awesome though those touristic sites may be, it has seen so much good stuff and it has experienced so many adventures in the past that it would be hard to beat, so we weren't even going to try. Instead we would attempt to take the TTB to see some family and friends for a little break in it's hectic schedule. Normal programming will resume shortly. So here we present you all: The Traveling TorchBug visits some far and distant relatives in The Hague!
Disclaimer-type-thing: Eight Kinja names united behind this cause, and the following article is written by all of us who were present that day. With the exception of the TTB, he's still speechless…
For years, the many calls for Oppositelock and Live and Let Diecast!-based car meet-ups passed us by, as they all were on the other side of the globe where the usual interesting stuff is. That is, until it happened; a local meet in the Netherlands! The first one as far as we can remember, and some of us have been hanging out here for almost 7 years now. So one by one we signed up and began discussing options and locations. Forming a team would lead to another nice side-effect: meeting some fellow members of our beloved communities for real; getting to know the faces and cars behind those Kinja names. In a heartbeat a team was formed, covering an area from Groningen, in the North, to just below Bruxelles all the way in Belgium, with a few places in between. Not to forget of course the involvement from a conspirator several thousand miles away, in Springfield, USA.
Location was easy to pin down. It had to be -maybe- the best Car Museum in the world (not just our opinion, it was chosen "Museum of the Year 2013" at the prestigious International Historic Motoring Awards) with a few relatives of the TTB in attendance. The folks at the Louwman Museum are always willing to go to lengths for their visitors,and in this case they went absolutely above and beyond for us. It was surely needed in order to get the TTB as close as possible to it's friends and family for the planned activities.
Step Two was picking the right tools for the job of getting to the location from Step One, just outside of The Hague. Some of us would be driving for 5 hours, some of us more. Therefore, picking the right car was important. All of us on these websites are here because we love cars in some way or another so it stands to reason we would all have something at least mildly interesting to drive over, right? The weather forecast told us it was going to be a hot day, but as this is Northern Europe we need always remember that clouds alone bring a chill to your bones and rain comes at an instant, not to mention that the levees could burst at any moment (that's more of an ingrained constant which the Dutch all live with…)

Would we take our slick little coupe if we had one?

Perhaps the iconic subcompact hot hatch without AC hypothetically?
Economic little hot hatch with A/C and a great chassis par chance?
Big family wagon-with-a-stick, being of course one is available?

The agile and stylish air cooled bolide conceivably?
Big highway-mile-eater would work if we had one?
Imaginably a track spec modern coupe?
Whatever would show up to see the little yellow traveler and its new friends would be a spectacle in it's own right: the first ever Dutch Oppo Meet!
Never shying away from a challenge, some of us inserted another one into the mix: if you leave way too late it's exciting to try to still arrive on time. It helped the almost Top Gear-esque challenge that we hadn't remotely counted on roads being swarmed with vacationing babyboomers, nor had we expected said babyboomers to characteristically also seize the opportunity for a nice day out on the boat and clog waterway so as to seemingly causing all bridges worldwide to open simultaneously.
One thing's for sure: only one of us was early with the rest was still stuck in traffic, he had just enough time to clean off those pesky bugs which decided to attempt suicide on his hot hatch's front bumper, not a massively arduous task since it was somewhere around 30 degrees with a nice bit of sunshine, when a red Porsche 928 arrived, and the feisty little Renault Twingo wanted to join this Deutsche Sportler in the sun. After this another Deutsche Legende arrived, in the form of a lovely white Porsche 911. The German sandwich with the small chunk of French cheese was definitely an unusual sight, but not the most unusual sight any of us would see that day. Closer to the deadline a Belgian-plated American-owned BMW E39 520 Touring we now call '4 out of 5' (manual/diesel/wagon/RWD/not brown) and quickly recognized from Oppositelock arrived. With most of us emerging from the hot cars looking like mister wet T-shirt contestants we all met in front of the museum to find we had all arrived at exactly 3:37pm; challenge completed.
We often become amazed at how easy it is to meet up with people throughout the whole, wide world because of the internet. Someone from the other side of the world could decide to take a plane to, basically, your doorstep, only because you've known eachother for a while online. It is only that we realize how crazy it is when we actually meet up, standing next to that person. Not only because we share the same passion for cars or because we're members of the same blog, no. Actually, the main reason for the group meeting with eachother was because of a yellow scale model VW bug named TTB, the Traveling TorchBug.

It was time to go to that famous collection, a formerly privately-owned assembly of interesting, rare, or otherwise special items which we were going to scour in order to see if we could find some relatives of the TTB. The Louwman museum has excellent parking on-site, but they also graciously allow cars of 40 years old or older to park in front of the main doors, providing another ever-changing display for wide eyed visitors to gawk at. We quickly decided that the 911 and 928 probably counted in one way or another and promptly placed those two at the main entrance, conveniently across from an almost prophetic and definitely-at-least-40-year-old VW Beetle in a deep burgundy color.
Then we made our way inside.
The Louwman Museum was gracious enough to provide us with a personal guide in the form of Rein Hamersma, an alien-built encyclopedia of automotive knowledge hiding out as a Dutch man in a car museum. Obviously the first stop had to be the 1951 Volkswagen Beetle 'De Luxe', the most directly obvious family of the TorchBug. Gloriously Brown and not over-restored to beyond factory levels, this honest little car seemed to be waiting its whole brown life for this very moment.

The Museum was, as we cannot say enough, cool to the point that we had our guide offering to place the TTB wherever we felt necessary. Before long our resident camerophile Section38 had Rein-the-Guide to the point where he was content to merely oversee, while Section did his thing and carefully posed the two Volkswagens together as the other Seven gasped at every motion..
All over the signature hood chrome the TTB went, and all around the characteristic floor boards it posed for the camera, and when the TTB almost crashed off of the rear window seals it seemed time to move on to other vehicle. Naturally we were only interested in the VW Beetle related items for this express mission, so Rein had us travel an immense distance to an even earlier relative of the Beetle; the Jozef Ganz designed 1946 Rapid Swiss, the so-called 'Volkswagen' prototype.
Discuss the controls of the semaphore on the Beetle-inspiring 1946 Rapid Swiss? Easy with the ladies and gentlemen at Louwman Museum. Find out this semaphore won't be able to carry a diecast yellow beetle for a photo op? Awkward for a moment, but said gentleman was cool as could be and as we humble Oppos weren't really risking the cars with our rubber-wheeled yellow VW, he practically insisted we delve deeper in the collection to find anything VW Beetle related for our photo-op.
1943 Volkswagen 166 'Schwimmwagen'? Sure, bring it on. Capable of reaching 80km/h on land, 10km/h on water, with a propeller coupled directly to the air cooled rear-engine when in water.
The TTB Family status is easily confirmed. Seeing the TTB balancing on the propellor of this amphibious military vehicle was fairly epic: proof that the answer to everything might not be 'Miata', but actually 'Beetle'. TTB even found the spade and paddles which were included as standard equipment back in the day!

With the TTB safely tucked under the Schwimmwagen's densely armored hull, we discussed the next stop and decided that obviously a Police-issue 1962 Porsche 356B 1600 Cabriolet made sense.

Naturally as the relation between the dutch "Rijkspolitie" and Porsche was a long and storied one, with the last Porsches used on our highways being the early 90's 964 model. Fun fact: the Dutch Highway Police apparently chose the Porsche for the fact that it was capable of doing 5 kms driving backwards without running hot...

With the inevitable and irrefutable Beetle-Porsche connection firmly established, going to visit the 1960 Porsche 718/2 Formula 2 racing machine made sense, you know, in a journalistic sense.

With a 1.5 liter Porsche flat-4 engine from the Spyder RSK, the air cooled family connection was undeniable.

The TTB fully inspected the insides of gentleman racer Carel Godin de Beaufort's last car, paying respect to the venerated line of Porsche racing machines which owed their existance to any number of VW-Porshe connections over the years.

After a quick stop to pay hommage to the 1965 Ferrari 500 Superfast Speziale
Formerly owned by HRH Prince Bernhard of the Netherlands, who famously preferred his Ferrari's in anything not red, the Louwman Museum currently displays this car next to a Ferrari 250 GTO Wire model/styling buck type thing, which is naturally completely badass.
We made our way to see some of the venerable vehicles to which the Beetle is bonded in non-familiar ways. With two particular examples in mind, we raced past the dazzlingly amazing displays which cover the entirety of the museum as the overhead speakers announced the inevitable ending of the fairy tale; closing time. Bugattis and Talbots and Astons and Spykers and Hedags and the second-ever Toyota all were left left grosely under-appreciated by our group of Opponauts as we raced back to the main hall for our last two targets, these other goldmines had to be left for another day.
A 1948 Tatra 87 loomed into view, the Hans Ledwinka designed Tatra is often cited as a major design influence for Ferdinand Porsche, and he was even sued for his use of, among other things, a design similar to Tatras air cooled flat four engine.

The 87 variant uses a 3.0 liter air cooled V8, which hangs out under that massive rear fin.

Across the hall from the big silver Tatra sits a small and innocuous blue DAF. The 1957 Daf 600 prototype #13 was only on our tour because this little DAF was the only real competition in the Netherlands for the Beetle, even though the Beetle's first export market was, in fact, the Netherlands. The DAF differs from the beetle in a few small, almost insignificant ways, mainly having to do with the entire engine design and placement. And the gearbox being a CVT. Still very cool to see though, and this car still had a tag hanging on it from the factory, denoting this particular example as a prototype.
The last large surprise of the day came when we were all coming down from this extremely powerful gasoline-fueled high, when our guide Rein divulged that he was, in actual fact, an owner of an early Beetle. The very same, almost blood red one which was parked out front, staring at the two Porsche's we had left there earlier.

Walking outside with Rein was an added bonus to an already bonus-filled day, and he made every attempt to continue to be gracious with what was clearly his pride and joy. And boy was she lovely. So lovely actually that we grabbed the 911 and decided to do some family portraits as best we could. The 928 was shy and full of water and didn't want to play

A quick coffe and a videochat with our very own philiphilip in the States occured, then we moved our cars from parking to join the two Porsches at the front of the museum so that a nice little group photo could happen. Many heartfelt promises were made to not let this be the last Dutch Oppo Meetup for a while, and we all made our ways home tired from the excitement but amped up beyond recognition from the amazing time we had, all thanks to the Traveling TorchBug!
A small toy car made a group of 8 grown guys contact each other to set up a meeting and actually have a wonderful time with a toy car. This is the power of the TTB. This is the power that sharing a passion, sharing a common interest, a common drive for fun, knowledge sharing and socializing can achieve. And it all happened because of our very own TTB!
Dutch Opponauts involved, in no particular order: DutchDC2R, duurtlang, Diecast-Car-Models, KatzManDu, BvdV – The Dutch Engineer, Pabuu – Defender of Stance, JobJoris and Section38. And philiphilip now with added FaceTime!
We, the Oppo and LaLD Communities, would like to thank all the people at the Louwman Museum to make this short event happen. Thanks to DutchDC2R for importing the TorchBug all the way to the lowlands, and to JobJoris for getting the rest of us off of our respective couches and into the hot seat for a day! A special thanks goes to Raymond Caenen from Louwman & Parqui and both Debby van Rijswijk and Paul van Bemmelen from the Louwman Museum. As well our utmost gratitude goes to Rein Hamersma. The Traveling Torchbug would not have met so many relatives and learn so much about them in such a short period without you, Rein, The TTB misses your amazing red Beetle already!