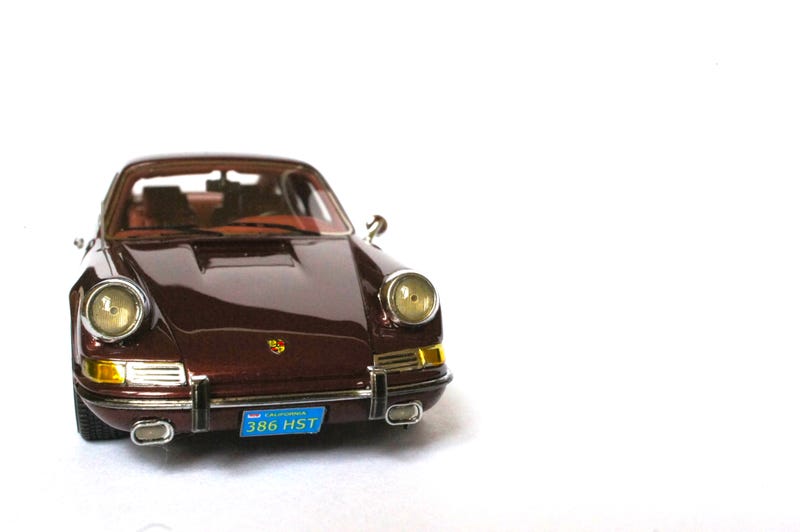 First time I ever saw a Panamera I wasn't truly impressed with it's looks. As probably most of you were not, or better: still aren't. So why do I come up this TT with an old-school 911? Well...
Because it's not your bread & butter 911. There's a 911S badge on it's back, and the 'S' clearly was, way before the 'widowmaker' 930 was introduced, already known for being a handfull. Short wheel-base, engine in the back, hardly controllable oversteer.
But there's more to this one. Way more. That 'California'-plate isn't the only thing that make's it American. The fact that Dick Troutman and Tom Barnes were involved has something to do with it. Troutman and Barnes, known for creating the Scarab Formula 1 car which competed, unsuccessfully in the 1960 season. And they constructed for 'Chaparral 1' as well. So what did they do with the 911? If you don't know already, please don't be shocked...
Yep: They added two doors...
They built the Panamera the way Porsche should have. Story goes this one was created with the approval of Porsche and it's constructed around two crashed 911s. It's whereabouts are unknown, it was a one-off, it probably isn't among us anymore. Most amazing feature was, due to the two crashed cars, that it's back seats were the same as the front seats. And that the 'suicide-doors' are basically the same as the front ones...
And actually Porsche's former attempt to create a 4-door car (not being the Cayenne) was the late '80's Porsche 989. With a 300bhp V8 in the back. This prototype is supposed to be locked away by Porsche somewhere but just think about a 4-door 993.
So who made this model of a one-off? It's a Dutch built Matrix. And it's a resin so no spinning wheels. So excuse me for leaving panning shots out this week.
It's my most expensive 1/43 ever. And it shows. Porsche logo on it's center-cap. Great interior, just look at that dashboard.
Just hard to photograph as nothing opens and the windows are closed.
I was actually pretty lucky with this one. Matrix' cars always are limited production, this one was sold-out a long time ago. There's enough of these on ebay but I got for half the price ebay's offerings are going for. Not that this one will be sold pretty soon as it's my favorite 1/43.
One can hardly imagine what Porsche's Panamera would be like if they just had followed the 989-path a bit more. I'm sure the Panamera is an amazing drive, hell if I was in the market for a high-end luxury limousine it still probably would be it for me. But 'lusting' for one: never.
This Troutman & Barnes one-off though: if they ever find it again and I've beaten Bill Gates when it comes to capital it's mine.
I mean: who could resist a 4-door car with the most epic back in the world. I know I'm somewhat biased but give me a break.
I sure hope to run into another Matrix-deal. They've got truly obscure cars. One of the few brands to have a Citroen Bisou in their line up. I need that one.
Das war es wieder. Dienstag dauert noch einige Stunden. So ich bitte Ihnen: MEHR DEUTSCHE PKW's!!!!