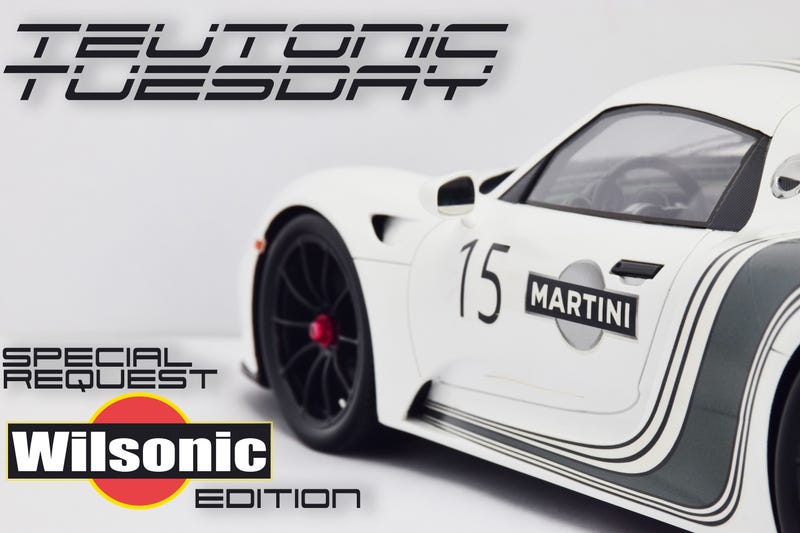 Sometimes someone says something to you and it just sparks an idea in your mind. Other times it reminds you that you've been forgetting something important. Like a 1/18 Porsche 918 Spyder Prototype that has been cowering with some other diecast friends in a box since my latest trans-Atlantic move, waiting for the day it and it's brethren can come out to shiny brightly once again.
To paraphrase the sentiment of our fellow LaLDer Wilsonic, the conversation to which I was alluding in my introduction; it's about damned time I review something with some Martini splashed on it. So here we have it, the only Martini liveried car in my collection at present; a 1/18 Porsche 918 Spyder Prototype by Spark. One of the weirder model manufacturers presently in my new(!) display case, I have only one model from Spark, and am perpetually taken aback by it.

It is a sealed resin cast, as are all Spark models, with some strange details that set it apart from other sealed-cast manufacturers we may be accustomed to. That also means there will be no fancy-schmancy GIF images today. sorry.
This is a model of one of the development cars used to test the cars before official production of the 918 Spyder would begin. Quite famously, the test cars ran on the street in matte black color with Martini Racing stripes and logos, though a white car, no Weissach aero additions, with Martini stripes does apparently exist. It was even featured in a Jalopnik article! I do not know however if this 1:1 example is a one of the test cars, or if one lucky owner added this famed livery, like the ever-adorable Shmee150 did to one of his awesome new rides.
Being a test car, the model has no badging on the rear or sides, and only one (highly detailed) Porsche emblem on the nose.
The body of this car doesn't have a nice, cold metallic feel to it like a true diecast mold, it feels almost like wood with layers of paint over it. That 'weirdness' is visually compounded by the decals on the doors beginning to yellow and separate slightly.
It is a real shame to see this happen, especially considering the price these models command these days.
The wheels and brakes are stellar. They are so detailed that it almost makes up for the decals!
The locking nuts feature great splining around the edges, and have highly detailed Porsche crests on all four. The nuts are red on the drivers side, blue on the passenger side, and the ceramic brake rotors look absolutely magnificent all around. Tires are well sized and the threads are very nicely recreated, but I am missing tire lettering once again.
Around the rear of the car, that brilliant mesh engine cover and upward-exiting exhaust pipes are displayed in great fashion, with small details of the supposed-engine underneath shining through from time to time.
The front is a simpler design by all measures, but it is recreated here with no less attention to translating the subtle design to a smaller scale.
The side markers and headlights look fantastic until you get extremely close, when you can see that the headlights are not the smoothest material, and the side markers don't fit perfectly. Admittedly the test cars didn't have perfectly fitting side marker lights either, but those were of a white or smoked black color, and as far as I know they were not amber until the production cars hit the street, where they were more elongated units designed to fit in the void in a flush manner.
I do love the little tow-hook cover and very convincing carbon fiber front splitter. Indeed, all the faux-carbon on this car is of a very high quality being not only a visual representation, but also of a high tactile quality as well.
This shot of the carbon fiber dash brings us to the interior, glimpses of which are available from all manner of angles and views.
There is too much detail in that hand-painted interior to not show it off more, and that is one of my main problems with sealed casts. I am all-for having a car or two where the interior is just not interesting. In fact, are you ready for some blasphemy? All race-spec interiors look essentially the same.

Road cars, however, especially at the hyper car level the Porsche 918 inhabits, tend to have fantastically intricate and varying interiors (engines too!) and those should be visible though an open door or window or something.

Those guage pods are so fragile-looking, I dread to think what would have happened to this car if it didn't come with a massive wooden baseboard and thick plexiglass cover right out of the box. I've kept it not only to better transport the car, and to display it out of a display case, but also because it features the serial number of this model. This is number 288 out of a total of 918 white models built, the same number of models as the road car.
So what is the point of this car? It is a fantastic piece for on a shelf, and when the eye is a half foot-or-more away this model is impeccable. Upon closer inspection, and if you are as crazy as I am, then some little details look a bit wrong. The decals coming undone is a large no-no, that is not okay at his level. Spark does make this model in a one-color version, like the road car, and I imagine there will no absolutely no issue getting this model to look magnificent in a metallic red or blue. On this white one, the interior and wheels make up for pretty much all the minor issues, but the interior is the hidden gem, here.

If I had spent real money on this I imagine that I may have bored sooner of it not opening up and not being able to see the true magnificence of a 918 up-close; that is why we buy these things, is it not?

This car was a gift, and while I do cherish the model, if I had been shopping for my own 918 Spyder to spend money on I believe I may have ended up with a Minichamps version. Simply because one day I'd like to further emulate my mega-garage fantasies and take this convertibles roof off....