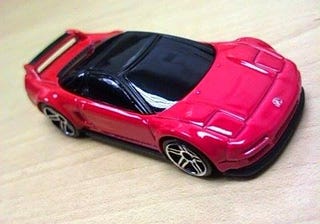 Next-door neighbor LamleyDLM got a hold of images of one of the most wanted models that was announced earlier in the year: the Gen 1 (1990) Acura NSX.
And now, it's here.
Stunning, isn't it? Looks and now feels like it came fresh off the lot in 1990...
.
.
.
.
...but it seems that HW understood that modders will want a MOAR wider version. So they have done the overfenders to save us the troubles.
.
.
.
They also added rear diffusers, so turning this car into the NSX GT500 or NSX-LM car should be fairly easy.
.
.
.
There are taillight tampos, too, which is a welcome sight.
.
.
.
Personally, I don't get LaLD's relative indifference to this model. It's still faithful to the original, has no raised bumper, and the modifications don't spoil the car; they merely augment it. In fact, I think the only thing I'd change is the wheels. It can use 7sp wheels for me.
.
.
Best Mainline Car? I'm certain it would go toe-to-toe with the brilliant McLaren P1 casting (and even shine brighter than that for many of you), but there's still 8 months' worth of Hot Wheels more to go.
And besides, there's this TEIN-liveried R. Asada classic to fuss about.