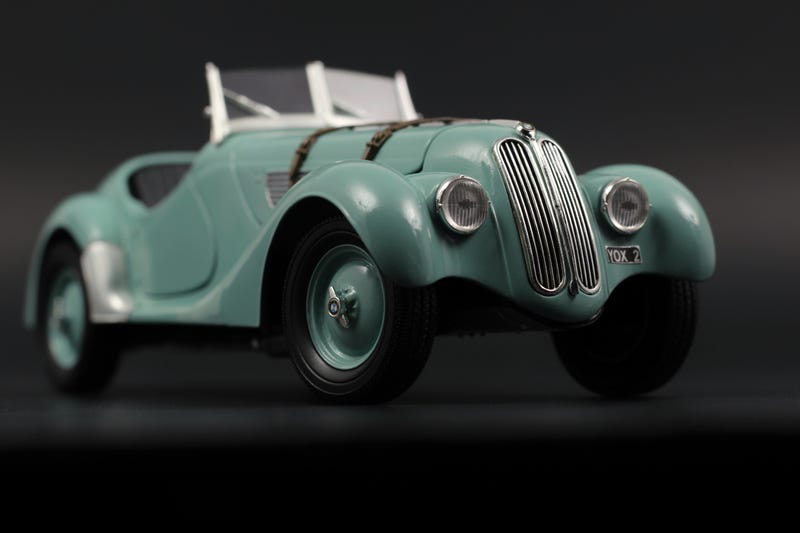 If you aren't following the Cultivated Collector on Instagram, you should stop reading this and go do it. Matthew Ivanhoe isn't just any other car collector, he takes his rare cars out and shares them with the road. He is currently the caretaker of several rare cars, including a one-of-six Schuppan 962CR and a yellow Jaguar XJR-15. As soon as I found out both of these cars would be at Amelia Island, I left him a comment letting him know that I was going to be there too. To my surprise, I got a DM from him a few minutes later. This guy is basically a celebrity, plus he's been on Jay Leno's Garage, so I was a little star struck.

He explained to me that he was also a model car collector, specifically miniature cars of his real collection. He was having trouble tracking down a Jaguar XJR-15 in 1:18 scale. Sadly, no one has ever made a model of this awesome Jag in this particular scale (the Schuppan neither). I did some digging but let him know that he was out of luck, but offered to search for any other cars he might be looking for. He thanked me for my help and told me to seek him out at the Amelia Island Concours and he would happily show me his cars up close. He had one other he was searching for, one of the other cars he was also bringing to Amelia: a 1937 BMW 328.
Now that car I knew existed in 1:18 scale form. I sent several eBay links over to him from Minichamps to AutoArts, but I recommended an older Ricko model as my pick. It could be had for a fair price and had a decent amount of detail. One problem though: none of these cars were the right color. Matthew's 328 was a beautiful shade of Patina Green. An AutoArt model in this color does exist, but they are rarer than hen's teeth. I decided my best course of action would be to snatch up one of these Ricko models for cheap, take it apart, repaint it, then surprise Matthew at the show with it.
THE TEAR-DOWN PROCESS...
After a bit of searching, I found this car for cheap on eBay for a decent buy it now price. Normally I'm a fan of brown colored cars, but this one was less than attractive, a perfect candidate for a respray. It shipped to my house within two days and I got started on the tear down right away. Taking the car apart was pretty straightforward, but the plastic pieces were pretty fragile at their age of twenty or so years. Needless to say, no matter how careful I was, things broke. Thankfully, superglue exists.
ALL ABOUT THE DETAILS...
While the car was soaking in paint striper, I tackled that hideous yellow interior. It was the same shade of yellow as my grandmother's velvet couch that I wasn't allowed to sit on, even as an adult. As I mentioned before, this Ricko model was well detailed, so carpeting was a huge plus. The fix was simple and effective: black sharpie! Blue tape was applied to the wheel knock-offs that I did not want to risk breaking and I trimmed the excess with an Exacto knife. The body-colored dashboard was going to be tricky. The gauges were already beautifully detailed with painted faces and chrome trim rings. Luckily they rested on a chrome backing piece that I was able to pry off with a razor blade. The steering wheel was permanently attached, but needed to be painted as well since Matthew's car had a white one. The chrome grab bar under the glove box had to be sacrificed to the diecast gods, unfortunately...
I had the body painted with a few light and even coats of a Jade green color I had found on Amazon. I had a few days left to apply one more coat, let it dry, then put it all back together before I left for Florida. I felt like I was on one of those poorly scripted garage shows where the deadline was quickly approaching and the car was still in pieces, but everything was going smoothly. Too smoothly...
Unfortunately, North Carolina was experiencing abnormally cold temperatures for that week in March. The final coat of paint decided to eat all of the other coats, and I was forced to strip the car down to metal once again. I did everything I could, keeping the wet model inside overnight and keeping the rattle cans at room temp, but you can't beat mother nature and father time. Everyday left on my schedule was cold, and I had no choice but to leave for my trip empty handed.

OFF TO AMELIA ISLAND...
I met Matthew at the show the following weekend and he could not have been a cooler guy. His BMW had just won its class, there was a crowd around him and his car congratulating him and taking pictures. When it was finally my chance to introduce myself, I decided to spill the beans and let him know of my top secret project to make him a model that matched his blue-ribbon car.
BACK TO THE OPERATING ROOM...
My self-destructing paint job actually turned out to be a blessing in disguise. After seeing the car in person, I realized the shade of green I was using was way off. I settled on a Satin Jade color from Rustoleum and would apply a couple coats of clear to make it shine. Spraying on the clear coat turned out to be the second scariest part of this build. I was not sure how the glossy clear would react with the satin color coats underneath, so I went light and only did two passes with the rattle can. One or two more coats should have been applied, but I was a big fat chicken at this point. This decision would lead to my most scariest part of the build: wet sanding.

I was totally inexperienced with the process, but I knew my fellow customizers on LaLD had amazing results. The margin for error was pretty slim with only two coats of clear, but I pulled it off as best I could. I definitely needed a few more coats and it did not turn out the best. Just don't hold it under any bright lights! I shined the painted shell up with some Griot's Garage polish and paint sealer than I use on my own car, and carefully reattached the bright work, wheels, interior, and chassis.
THE FINAL BUILD SHEET LOOKS A LITTLE SOMETHING LIKE THIS:
I stripped and resprayed the entire car including wheels and the dashboard. I hand painted the steering wheel and shifter knob white to match Matthew's car. The Ricko model had a front license plate bracket, so I filled in the holes and printed a vinyl Euro plate matching the real car. The interior carpet was colored black and the side grilles on the hood were painted silver instead. The engine was left untouched, as Ricko had a great piece under the hood already. The final step will be to pack it up and ship it off to Matthew. It's no AutoArt, but I cannot wait to hear what he thinks of it!
FINALE...
After the car was fully reassembled, I ran up the stairs to get it in my photo booth for some classy pictures! Hope you enjoy...