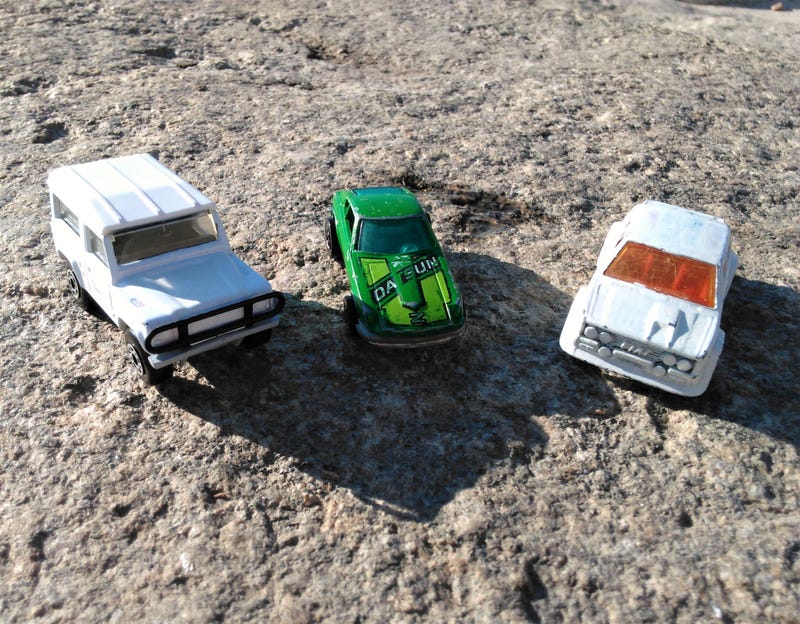 Finally, we've reached the end of my mini series of cars I acquired from Fintail's mega sale. We've seen odd French supercar that could've been, to a tiny Italian rally star attempting to continue the winning streak on the pavement. Now to end the series, it's time to share the free gifts that Fintail included with my purchase. Three cars, one Hot Wheels and two Matchboxes and all seemed to be very well enjoyed by their past owner(s).

First up is the Z Whiz, from nice Hot Wheels casting from the "Black Wall" era. It stood up to time fairly well with moderate paint loss. The Z Whiz seems to see a great share of racing either on the orange track or elsewhere as the axle on the car is a bit tired but still rolls good. Kevin, it's original owner seemed to like this car and probably took it along with him everywhere he went suggested by the name on the base.
Next up is the Fiat 131 Abarth to go along with my mainly rally-themed purchase. Sadly its original owner decided to give it a new paint job to cover that beautiful Alitalia livery.

And last but not least, my No. 1 favorite from the free gifts is the Defender 90. I always like the rugged Defender and shown a BRG version of the same cast on here awhile back. Out of the three, it's in the cleanest condition with all the wheel chrome intact and minimal paint loss despite it was owned by the same owner as the Fiat as it too got a repaint on the hood and sides.

As of now, I'm not sure what to do with the Fiat and the Defender. For the Z-Whiz I do have an idea to continue it's original owner's adventurous personality.
That's all for now, here a teaser for the next post which will reveal the previous teaser I've shown on here:
Thanks for viewing. Cheers.