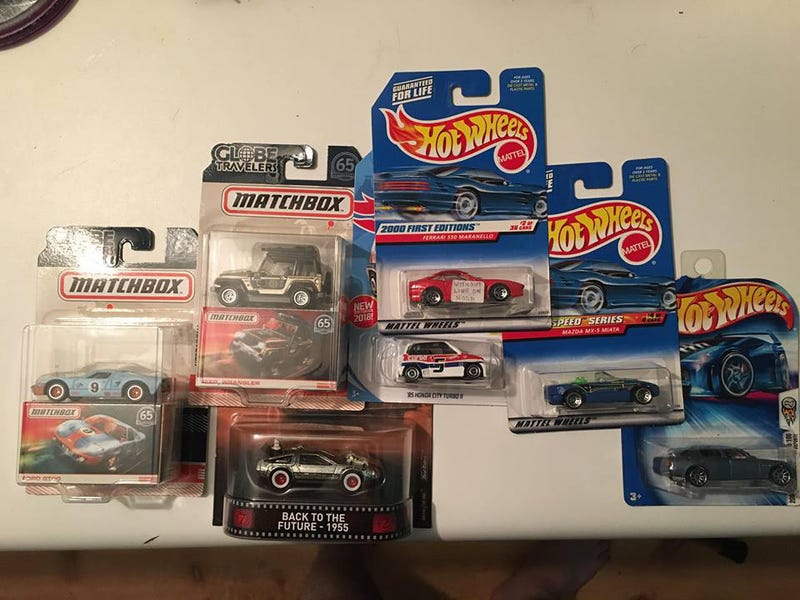 This haul is a very special haul for me because it gives me the opportunity to showcase a few casts that I've been looking all over for, and a few others that deserve to be showcased. It's a mixture of new and old.
Hot Wheels Basic Line
2018 Basic Line Honda City Turbo
This adorkable little nugget of joy has been on my radar for so long it's crazy. For the past few months, I looked on as many friends and others got their hands on the City Turbo while all I was left with was mounds of R33s and RX-7s. Finally, I managed to get my hands on it, and it's honestly everything I've ever hoped for.
Having seen a City Turbo in real life, everything about this cast screams yes in big bold letters to me. The proportions are spot on, and it feels fun to carry around as this little bundle of turbocharged fun that feels like a pocket companion for any dreary drive. It also gains bonus points for having a plastic mold of the Motocompo in the back, which just makes me smile.
The only points deduction comes from the paint area, which seems to be lacking on my model. I'm also not really a fan of the design, but I've seen worse from Hot Wheels so I can't complain there. Overall, it's a really good little cast which I hope to see more from.
2004 New Editions Maserati Quattroporte
Where did you come from, where did you go, where did you come from Hot Wheels Quattroporte?
A while ago, Lamley chose the Maserati Quattroporte to help display the then-new Cadillac Elmiraj cast, which I'm a huge fan of. But the Quattroporte was what really stole my heart from that post. I'd never seen this cast before that moment and immediately set out to grab one. Luckily, I went to a local show on Saturday which included a vendor selling tons of old basic models, and this just happened to be one of them.
It is a crime that this cast was never used again (to my knowledge). This thing is purely gorgeous all the way around. The flake paint, the tan interior, the detailing, it's truly one of Hot Wheels' best. Someone at Mattel has to bring this thing back from the dead somehow, it's just too good to ignore.
And yeah, if you haven't been able to tell yet, I've got nothing but smiles for this little cast. It's already one of my firm favorites of all time, a reminder of how attention to detail can really pay off. Get one, if you already don't have one. It's worth the time.
1999 First Editions Ferrari 550 Maranello
Going forward with the spiciest of meatballs comes this modest little cast from when Hot Wheels owned the Ferrari license and used it well. Like the Quattroporte, this 550 cast became a firm favorite of mine before purchase, and it feels like a great accomplishment to finally own one.

However, all is not perfect. There's a distinct lack of detail going on here, which I can excuse because of its age, and the fact that shape, color, and proportion can make up for it. What cannot be made up for is an axle issue which prevents it from rolling freely. This, of course, is not the cast's fault, but it really hampers the enjoyment of it.
But after all of that, what can I say. It's a Ferrari, dammit, a brand I sorely miss from Hot Wheels.
1998 Basic Line Mazda MX-5 Miata
This wasn't necessarily a purchase of a car that I've been looking for, but just for fun. I miss the NA Miata cast from Hot Wheels, and I shockingly didn't really have any examples in spectacular condition. This changes that.
And while this one is unfortunately decked out in an awkward blue and green wakeboarding tampo design, I still do enjoy it quite a lot. I might get it properly customized by a friend of mine soon, so more details will come later.
Matchbox 65th Anniversary World Travelers Line
Ford GT40 LeMans Racer
The Matchbox GT40 is truly a thing of beauty. How do you improve on that beauty? Giving it details that are out of this world. Seriously, Matchbox's 65th anniversary line is nothing to scoff at, and this GT40 is probably the shining light of the line.
Not only is it sporting rubberized tires and proper detailing, it also feels so nice when you hold it. It's got weight to it, and a nice flat paint finish that feels so smooth to touch. It feels like a model that costs ten times more, and it's quickly becoming an all-time favorite of mine.

Jeep Wrangler Off-Road Adventurer
And speaking of, here's another great piece in the 65th line, a Jeep Wrangler done up in adventurer garb. The detailing is not quite as well-done as the GT40, but I wouldn't call it lacking either, as it has displays of everything such a vehicle might need out on the trail.
Hot Wheels Entertainment Line
Back to the Future Part III 1955 Delorean
And our final piece of the night is a famed piece of American cinematic history. There's tons of DeLoreans in the world of all different types, but the 1955 DeLorean featuring red steel wheels and white walls from the beginning of Part III is honestly my favorite look of all of them.
Something about the way the red and white contrasts with the stainless steel coloring just pops out. It always reminded me of some kind of 50s sports car or something. Plus it shows off all the time periods the DeLorean had seen thus far by that point in the movie and contrasts with the Mr. Fusion so prominently displayed on the back.
Overall, I'm pretty satisfied with my haul for this past week. It's got its highs and lows but is a great collection all around.