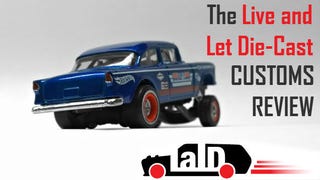 It's that time of the week again, time for the Live and Let Die-cast Customs Review!
For all our new members, this is the first of our four main weekly features, the others being the Reviews Review, the Photography Review, and The Hunt. In the Customs Review we highlight the customs produced by LaLDiehards during the previous week.
The first one that I wanted to highlight is mycarneverruns87(henceforth referred to as MCNR87)'s Chevy Gasser mashup. This thing is straight up RAD to the bone. What a great idea, and flawless execution! Just bask in it's glory. I know I am.
Up next is a pair of my own customs, the first of which was definitely piggybacked off of a Hako I made for JMildren, but with some different details thrown in. It's a simple respray, but I really enjoyed it. What can I say? I wanted one for myself too!
The second one I finished this week is a Wiessman respray that started off as a tampo delete. Went a bit overboard, but the results are good!
Carnage717, our most prolific customizer put up another strong performance this week with his Porsche 911 Targa, which came in a kind of drab silver, but now pops in a much livelier metallic green!
I really like this casting, and this custom really does it justice. The "Fuchs" wheels really fit well!
His other custom of the week was a Veneno Roadster in a perfect dark shiny red. What a beast!
You, my friend, are a true artist!
That's it for this week's customs review! Please let us know any comments/questions/inspiration, etc. in the comments.