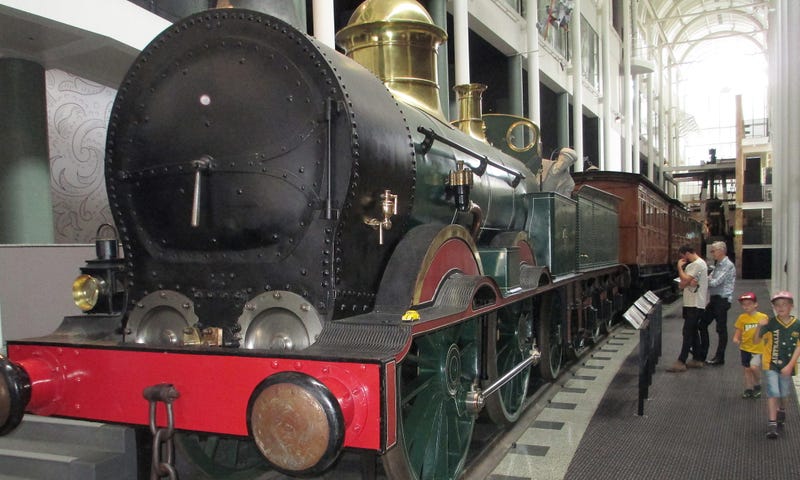 You know what Sydney is missing? A car museum! This is Australia's largest city, and we don't have on single bleeding car museum. The main reason is that the car industry never really settled here. There were only two serious car factories in Sydney ever: One was Bill Buckle's Goggomobil plant, the other was the local British Leyland plant. Of the two, the Goggomobiles are more fondly remembered... But we do have the Powerhouse Museum, with some interesting machinery. Above is "Locomotive #1". It was the first Locomotive in New South Wales - built by Robert Stephenson and shipped to Australia in 1855.
The Powerhouse Museum is a home for all things relating to technology and science, so transportation is a large part without being the sole focus.
As you can see, it is very "hands on" wherever possible. Here we have a relative of the Torchbug, now powered by a treadmill:
One of the most striking displays is this fully operational Steam Engine. It is the size of a small house, two storeys high, and positively ancient, by our standards.
It was made in 1785 by Boulton and Watt (as in James Watt) and powered a London Brewery for 102 years! A visiting Australian academic saw it being dismantled and asked if could ship it home for this very museum. It took another 100 years to be restored to full working order. Considering its huge size, the power output is pretty disappointing: 15hp.
Here's the Torchbug on an Electric Chair - as I said, they let you touch almost anything there. Unfortunately, my favourite exhibit is behind glass walls these days. Not so long ago, it was just sitting behind a few ropes, but I am guessing the insurance company wanted some better protection:
Yes, that's the real deal, and with local racing history, too. This car was the winner of the 1929 Australian GP at Phillip Island - which was all dirt roads back then.
Yeah, I can't stop looking at it.
Sadly, the story of the Mercedes helmet isn't explained at all. I want to know! Here's another item pertaining to the local car history - a 1937 body shell for a Chevrolet, made by Holden's, to promote the then new unitary construction:
But other than that, no Ford. No Holden. Not even a single Ute! Boo. But we do get some locally manufactured motorbikes - a "Warratah" and an "ACME". Though all the parts were shipped over from England, they just bolted them together here.
This strange contraption is a "Ner-A-Car" - a motorbike with an extremely low centre of gravity - more for comfort than speed, and popular with Vicars, apparently:
There is so, so much more, from WWI airplane engines
to a "new old stock" Russian Lunar Rover
So if you find yourself in Sydney on a rainy day, this place is definitely worth checking out. Oh and, last time I was there, they had a large display of 1960s and 1970s Matchbox models. Sadly, that is no longer on display. Bugger.