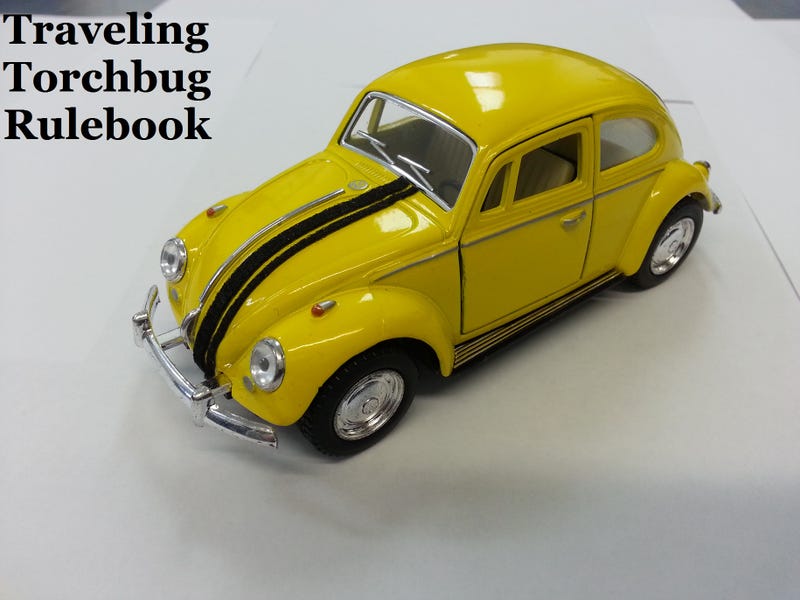 This baby is growing and I want ALL of you to get time with it whooooo!
Just to recap...
The Traveling Torchbug is now in North America. THE PLAN is for the Torchbug to go on an East Coast to West Coast movement. After Concours d'Elegance at Pebble Beach, the bug will in the New England area.
-How do you get a chance with it?
-How do I get on the "list"?
-Will Garth ever get his Sports Illustrated Football phone?
First, there is NO LIST. The way this it is changing hands is by putting a comment on the latest post when it is in near you. I'm really trying to get this going from East to West without more detours.
It is going Post to Post. Once someone makes a post, hurry and comment on the person's post and make a case to get it next.
Posts will be on liveandletdiecast.com Click on the tag Traveling Torchbug to see samples of some awesome posts.
Yes I know you have a specific event you want to take it but so does a buuunch of our fellow LaLDers, OPPOnauts, and Jalops. It will miss things but it will also see a bunch of other awesome places with awesome people.
GOAL
The gooooooool! is for the Traveling Torchbug to visit as many OPPOnauts as possible. Each OPPOnaut will take some rad pictures with it in either cool places, situations, near cool cars, etc. and post the pictures on the Live And Let Die-cast page under the tag: Traveling Torchbug. Once it has been everywhere man, it will come back to me here in Houston Texas. Finally, I will deliver it personally to fellow Texan and jalopnik contributor Stef Schrader (if she doesn't mind). She will be the last to take some awesome pics, post, then mail it to the man himself :]
RULES:
1.You will cover the shipping duh. It's shouldn't be too much dudes. About the same as a yummy Jimmy Johns Sandwich meal :]
2. Keep it rolling. As soon as you get it, try and get some awesome shots and send it as quick as possible so that most of your fellow OPPOnauts could get a chance.
3. The Traveling Torchbug has a motor! Well, if you pull it back, it takes off on it's own :] If possible, a video would be sweet!
4. If you want to modify it in any way, let me know first :]
5. Don't forget to use the tag Traveling Torchbug please. Once you post it to the Live and Let Die-cast page, share to OPPO as well :]
6. Never speak about the Traveling Torchbug
7. Ignore rule 6, tell everyone! Even animals that don't understand human talk lol :]
8. PLEASE BE CAREFUL WITH IT!
9. There are no rules muah ha ha haaa!
10. Psych, there are rules :] Let me know if there are any question along its journey. This is going to be epic, ahhhhh! I can't wait, Ahhhhh! Ehhhhh! AAAHHH....
11. Ship in a BOX BOX BOX, ze bug is a fragile bug, put the little guy in a box :]
12. Last, include a hand written letter if you can. Each OPPOnaut will add his/her own to the accumulating delivery. This insures a physical item along with the electronic photo album :]
13. Jalopnik HQ and staff is off limits!!! [for now]
14: I will need the current and upcoming person's email on each exchange.
Any questions let me know.