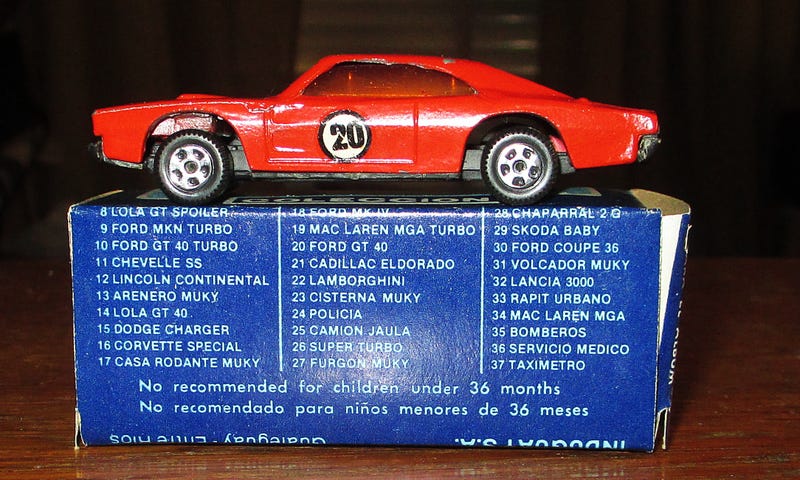 This is one of those instances where the story behind the model is far more interesting than the casting itself. The Muky brand is from Argentina - and the name seems apt, as the story behind the models is, well, murky...
I am taking the information from this website, which is highly recommended.
MUKY models were produced there (in Argentina) during the 1970s and 1980s. According to collector Mariano Garcia, MUKY were the cars that you did not want, as they were rough. Argentine children always wanted the popular Buby models. This may be one reason why MUKY models appear to be less scarce than most Buby models, especially before 1980. MUKY has been called the "Hot Wheels of Argentina". Many of the products in approximately 1/64 scale closely resemble formerly issued castings from Mattel. This situation presents many questions that need answering. How were these castings able to be produced?
This is where the story gets weird. For years, people claimed that Muky used original Hot Wheels Redline tooling that somehow was stolen from Mattel and shipped to Argentina. That sounds a bit wild. Of course, they could also simply have obtained old tooling legally - or simply copied them. No one knows for sure, so this is all speculation.
These castings have simple paint schemes and many are applied with decorative adhesive labels. The wheel designs appear to be general "run of the mill" creations and do not resemble the Hot Wheels versions. Models were available on blister cards and inside both window boxes and enclosed printed boxes in addition to three pack containers. Some were advertised as "Super Veloz" which translates to "super fast". The vast majority of models appear to have dark amber window glazing. Thus the interior detailing is nonexistent. This condition causes a loss of quality and presents a cheap appearance.
So how did I end up with this Muky (and a few others)? About 10 years ago, I was in contact with Dave Weber who co-authored this article. He mentioned he was talking to Roberto Frasinetti of the Buenos Aires Toy Museum. And Roberto was in contact with the family who used to own the company producing the Muky cars. They in turn sat on a bunch of new-old stock they were wanting to get rid off, but only wanted to sell in bulk. Somehow a deal was struck, and Dave Weber ended up with a large carton of these models, and he kindly sold me one of each casting.
So - what you see here is a "mint" Muky as it left the factory sometime in the late 80s. Or rather, didn't leave the factory - until much later.
Call me crazy, but this sort of stuff is for me far more desirable than just any old spectra-flamed Redline.