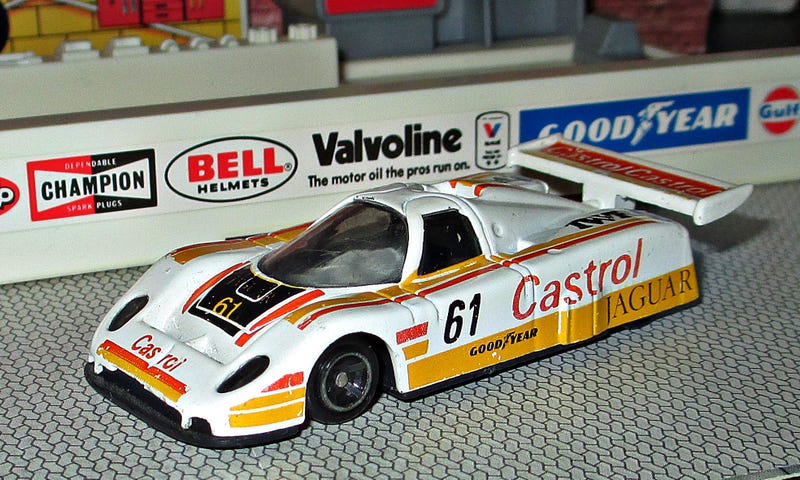 An evolution of the design for the XJR-8, the XJR-9 was designed by Tony Southgate and built by Tom Walkinshaw Racing (TWR), and featured a Jaguar 7.0-litre V12 based on the production 5.3-litre engine as used in the Jaguar XJS road car. A variant of the XJR-9, the XJR-9LM, would be developed specifically for the 24 Hours of Le Mans where the requirement for high straight line speeds on the Mulsanne Straight necessitated a low-drag aerodynamic package.
And as good luck would have it, I have just this LM version in my collection. In the United States, the Castrol sponsored XJR-9s debuted at the 24 Hours of Daytona, with the car taking the overall win. However, throughout the rest of the IMSA Camel GTP season the XJR-9 was unable to gain another win until the final race of the season, meaning the team had to settle for third in the constructor's championship. In the 1988 World Sports Prototype Championship, the XJR-9, running Silk Cut sponsorship, met with more success. The XJR-9 was able to take six victories, including the 24 Hours of Le Mans, over the eleven race series.
Silk Cut Jaguar won the Teams Championship and Jaguar driver Martin Brundle won the Drivers title. Jaguar's success at Le Mans marked the first time since 1980 that Porsche had not won Le Mans, and the first Le Mans victory for Jaguar since 1957.
For 1989, the XJR-9 was again entered in both IMSA Camel GTP and the World Sports Prototype Championship. However, the XJR-9 was by now dated, and in IMSA was being repeatedly beaten by Nissan, leaving the XJR-9 with only a single win on the season. This led to Jaguar introducing the XJR-10 midway through the season, which met with slightly better success having two wins on the season and usually placing higher than the XJR-9 it ran with. At the end of the season, Jaguar finished 2nd in the championship.
The model you see here is a 1/64 by Spanish maker Guisval - and it is representing the Castrol version from the IMSA races. And it even features the correct #61 - just what happened to the colors? Maybe Guisval got confused with the Repsol colors... They also made a Le Mans correct Silk Cut version, but I don't have that one unfortunately. But other than this, it's pretty sweet considering that this is definitely a toy rather than an adult collectible.
There's going to be a couple more Guisval leading up to the race - so stay tuned.
P.S. The base clearly states XJR-9 but looking at the pics, isn't this more like an XJR-8? Shrug...