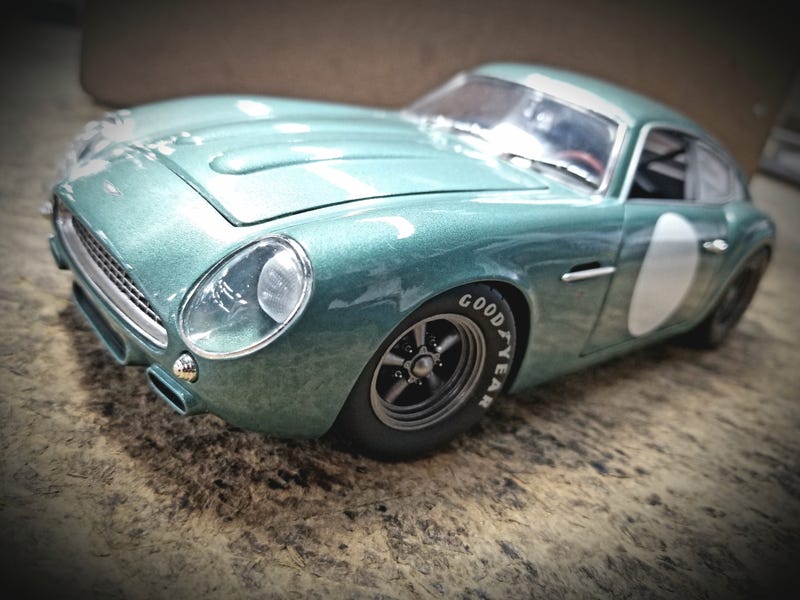 Another R32rennsport exclusive, proper photography to follow. I love taking cheaper, entry level 1:18s and kicking them up a notch and this one turned out particularly well with relatively little effort.

1961 Aston Martin DB4 Zagato by Road Signatures aka Yat Ming. You can easily pick one of these up on Ebay for well under $40 shipped if you're patient. It has very decent detail for an entry level model.
I don't know how I came up with this idea, I think I was looking at my models in my curio and saw my 1959 Aston Martin DBR1 just ahead of my Shelby Daytona Coupe. The gears started to spin and I thought, what would Carroll Shelby do if he brought home an Aston Martin after his 1959 Le Mans win, how would he make it look.
Besides ditching the incorrect size wire wheels for American Racing Torq Thrust, adjusting ride height, adding a roll bar structure, detailing the inline 6 and a couple of meatball decals the model remains fairly unchanged. Just goes to show what a difference a wheel swap and attitude adjustment makes! I seriously considered swapping in a Ford 427 with sidepipes...because America! I just love how the wheels and tires pump up the curves on this sexy beast!
I still consider this a work in progress as I would still like to add some details to both the interior and exterior as I'm lacking in donor materials at the moment but this is the basic final product. I wanted to add meatballs to the hood and trunk but because of the complex surfaces they will need to be masked and painted on.
Let me know what you think of this Americanized Aston. Enjoy!